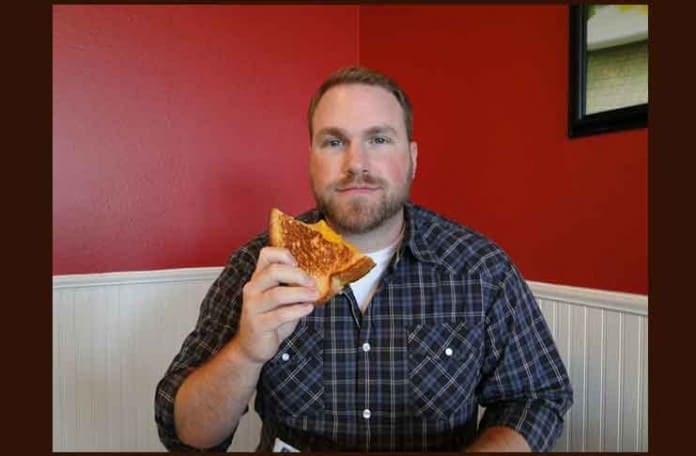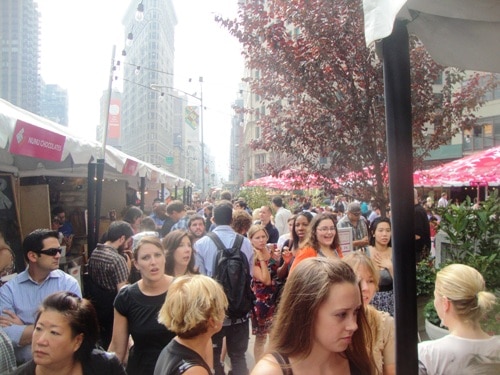 I was able to get down to Madison Square Eats, which started last Friday, for Today's Lunch.  They did one of these at the beginning of the summer and it was a success, so they decided to do another one at the beginning of fall.  This Madison Square Eats runs until Oct 21st, and there were around 20-25 vendors in the triangle between Broadway & 5th Ave and 24th & 25th St.
Some of the same vendors from the previous event are back (Asia Dog, Roberta's Pizza, Hong Kong Street Cart, Calexico), but there were plenty of new vendors, who I definitely plan on visiting over the next month.
My first stop was the stall with Milk Truck.  Many of you know Milk Truck from their stand at Brooklyn Flea and other food events around the city. Despite their name, Milk Truck only recently christened their new truck, which we ran into at Fashion Night Out (although they were all out of grilled cheese by the time we got there).  Now we get to try them for reals.
Today's Lunch is a grilled ham & cheese ($7.75) from the Milk Truck stall at Madison Square Eats.
Milk Truck is known for putting care into every sandwich, even slicing the bread to the thickness they believe is optimal.  They also carefully select each ingredient in their sandwiches, using bread from Balthazar Bakery and Blue Ribbon Bakery, and local cheeses where possible.
The ham & cheese sandwich had NY State cheddar cheese, wood smoked ham and rosemary pullman bread from Blue Ribbon.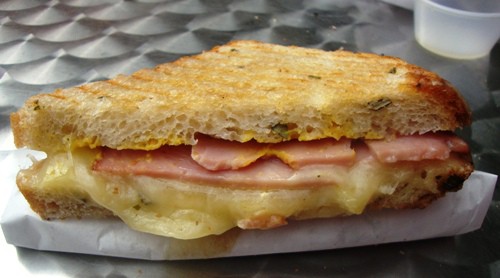 When I took the sandwich out of the bag, it seemed kind of thin in the middle – but after taking the first bite, I realized size didn't matter (in this case).  The sandwich packed a taste punch.
The cheddar cheese was strong, but delicious.  At home, I often have trouble melting cheddar cheese, but this cheddar melted nicely.
The bread was not heavily grilled, but lightly browned, and the rosemary flavor came through just fine, even though the bread was thicker than my usual sandwiches.
I was skeptical at first looking at two thin strips of ham, but they held up to the bread, cheese and mustard no problem.  The ham was more like baked ham that you get during the holidays than the boiled ham you get in most delis.  The mustard even did a nice job on my sinuses.
Today's Lunch from Milk Truck was excellent.  I can't wait to see the truck on the street and try more of their sandwiches.  I hear their milkshakes are really good too.
You can check out Milk Truck at Madison Square Eats, which is open every day until Oct 21st from 11am to 11pm – so you have dinner too.