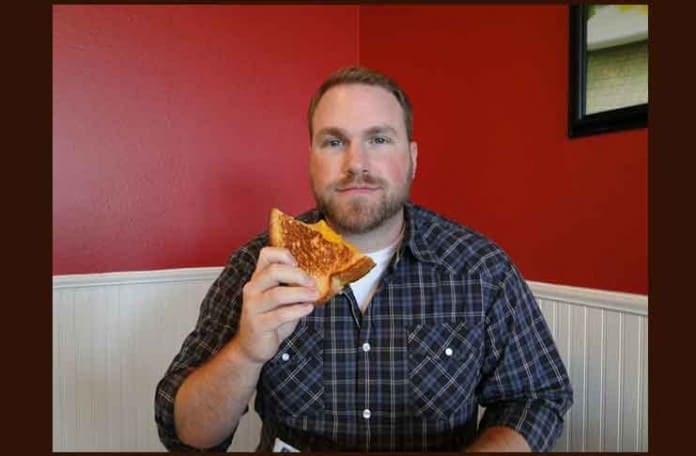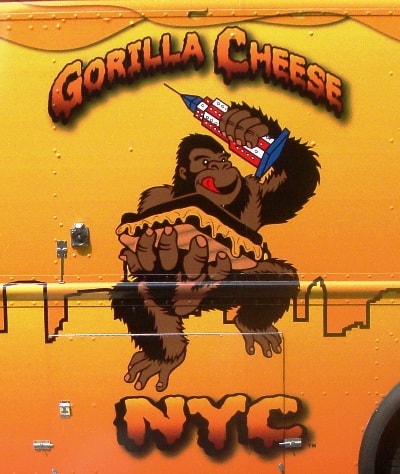 There are currently 3 grilled cheese trucks in New York City, but the very first one was Gorilla Cheese NYC.  They have such a great logo, King Kong holding the Empire State Building in one hand and a dripping grilled cheese sandwich in the other, that we made them the cover of our 2012 Calendar.  And their food is pretty good too!
Gorilla Cheese has an extensive menu where you can either make up your own sandwich or go with one of their combinations.  They also have weekly specials that rotate, such as shrimp scampi grilled cheese, grilled lox & cream cheese, and falafel & muenster grilled cheese.
Last week's special was a Reuben, that classic New York sandwich.  It cost $7 for just the sandwich, or you can add tater tots and a drink for $9.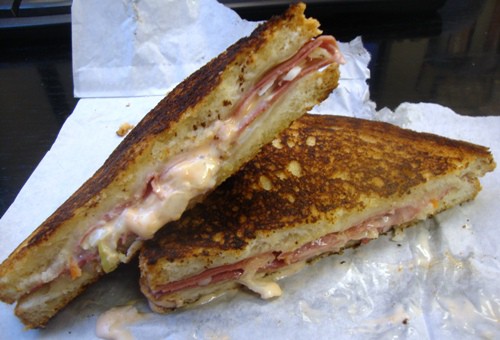 This version of a Reuben is a little different from the standard Reuben, which is open-faced with corned beef, Swiss cheese, Russian dressing and sauerkraut on grilled rye bread.
The Gorilla Cheese version is on French bread, not open-faced, and they use cole slaw instead of sauerkraut, but this sandwich could still be identified as a Reuben.
The Russian dressing was nice and creamy, mixing well with the Swiss cheese and corned beef.  Cole slaw plays an important role here, giving the sandwich some texture and crunch.  Sauerkraut would have been too soft.
Buttery, perfectly-grilled French bread is the final piece of the puzzle.  The only downside was I would have liked a little more meat, but I often make that comment.
This was a delicious sandwich, but it's not on their regular menu, so keep an eye out for it on their twitter account here. You can also check our Mobile Munchies twitter feed for locations and weekly specials.
In general, you can't go wrong with Gorilla Cheese's weekly specials, and I also really like the brie, proscuitto and strawberry jam sandwich, which is on the regular menu.  It has that sweet, salty and creamy thing going on, which makes for another killer sandwich from Gorilla Cheese NYC.