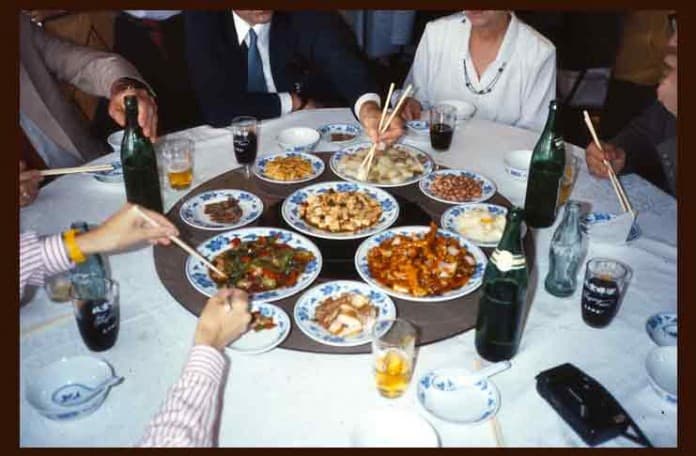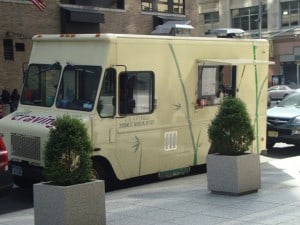 I walked by the NYC Cravings truck yesterday on 53rd St between Park and Lex, and the line was 25 people long.  Today, they were in my neighborhood, on Hudson between Houston and King Streets, so I got there at 11:30, and only 1 other person was there that early.
They have expanded their menu since the last time I was there, on one of those cold, windy winter days in January.  Last time I had the Taiwanese fried chicken and zongzi, both of which were excellent.  Today's Lunch was the Taiwanese style fried pork chop over rice with pork sauce and pork shumai.
It was tough to decide because they also had their famous chicken wings, tea eggs, fried tianbula (fish cake) and steamed pork dumplings.  I definitely have to try the tea egg next time.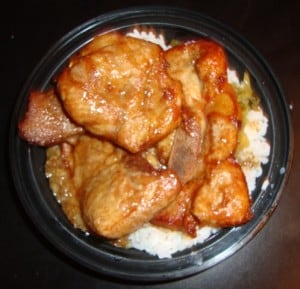 There were 3 large pork chops with a mild glaze, fried and served over rice with pork sauce and a few green veggies.  This was a lot of meat, and it was very good.  There was very little fat on the chops, and each bite was wonderful.  I know $7 is not cheap for lunch, but it was a good value with the huge portion.
The pork shumai was really good, too.  The wrapper was very light, and the meat filling was nicely done.  I can't decipher exactly what went into it, but suffice it to say the shumai were some of the better dumplings I've had, certainly one of the best from a truck.   There were 4 shumai for $3, which was also a good value (outside of Chinatown).
Today's Lunch was an 8.5 out of 10.  I highly recommend NYC Cravings (as do many other people), but be sure to get there early, because the line gets nuts by 12:30 or so, and they often run out of food by 1:30-2:00.