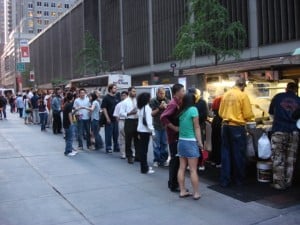 Muhammad Lila, a correspondent with CBC News in Toronto, wrote a loving story about Islam Elsayed, founder of the world-famous 53rd & 6th Halal Cart.
For those who have not had the opportunity to sample their wares, be ready to wait for up to an hour, and don't go during the day.  The real 53rd & 6th Halal Cart is only open from 7:30pm – 4am.  The cart on that corner during the day is an imposter, trying to make a buck off the reputation of the original.
The money quotes: "It is the juiciest, messiest, greasiest, creamiest, stick-to-the-roof-of-your-mouth, garlicky smelling pile of food I've ever seen.  That night, as I lay in bed — having stuffed myself with the best $6 I've ever spent — I dreamt about the sauce.  And I knew I'd be back the next day." [The Star (Toronto)]
Spoken like a true street food maven.  But what he didn't mention was that people have been killed for cutting in line hoping to get Islam's famous street food a little faster.