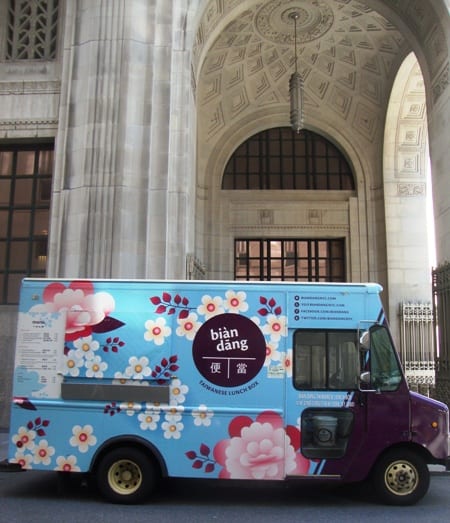 After taking some time off during the winter, and visiting Taiwan for some inspiration, Bian Dang returned to the NYC streets last week.
Bian Dang, which is Taiwanese for "lunch box", started out in 2009 as NYC Cravings and were nominated for a Vendy Award that year in the Rookie of the Year category.  Last year they changed their name to something more traditional – and changed the design on their truck into one of the most beautiful food trucks in the city.
Early last year they also opened a stand at Food Gallery 32, which is in an Asian food court at 11 West 32nd St (bet 5th & 6th Ave).
Bian Dang has delicious Taiwanese fried chicken, pork chops and assorted side dishes.  We ordered Taiwanese fried chicken for $7 and zongzi for $4.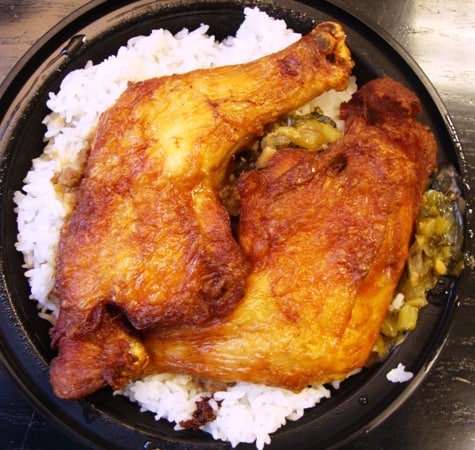 The fried chicken at Bian Dang has crispy skin flavored with Chinese 5-spice powder.  This gives it a really nice flavor, and infuses the chicken underneath as well.  It's moist, tender…and delicious.
You can barely see it in the photo, but under the chicken is white rice with Bian Dang's s secret weapon, their pork sauce.  Bits of pork, herbs and spices are mixed with some greens into a sauce that tastes great with white rice.  I guess this isn't a place to bring vegetarians.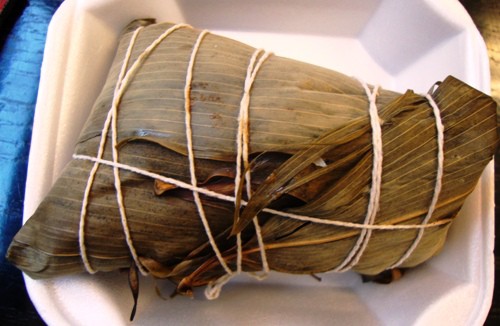 Bian Dang describes their zongzi as a Chinese tamale, and is also called sticky rice or sticky rice in lotus leaf in other places.
First you take off the string, then unwrap several large leaves.  Inside the leaves is a mound of rice, and inside the rice is a veritable goody bag with Chinese sausage, peanuts, mushrooms, ground pork, soy beans and a little bit of greens.
The rice in zongzi can sometimes be too salty, but Bian Dang's zongzi is not.  This is a very tasty dish , and quite filling for $4.  It can be a bit tricky opening it up and peeling some of the rice off the leaves, but I really enjoyed it, with all the different bits steamed inside the rice.
We're glad to welcome Bian Dang back to the NYC streets for another season. You can follow them on twitter here (where the background still has the NYC Cravings logo) or on our Mobile Munchies twitter feed.