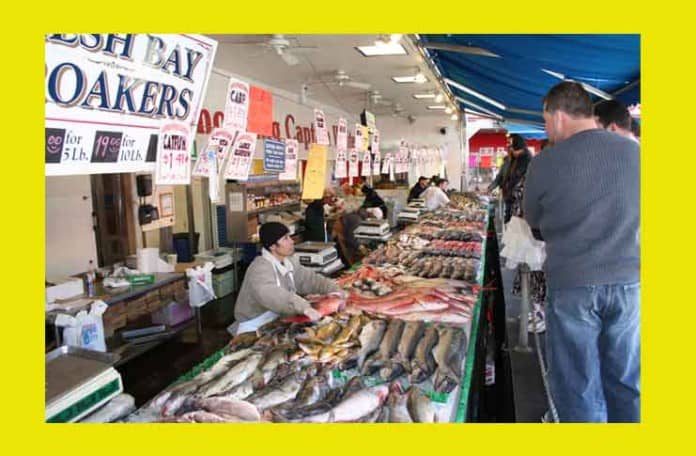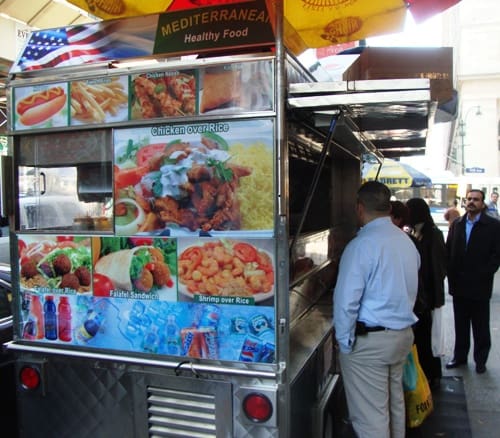 I happened to be in the Empire State Building/Herald Square area around lunch today, which is generally a wasteland for good street food.  There are lots of run-of-the-mill hot dog and pretzel carts, but not much else.
With it being right before Thanksgiving, there were tons of tourists, but when I walked past 34th St, I saw a food cart on the SW corner of 35th St & 5th Ave with several local people on line getting their lunch.  I decided to investigate further, and that's when I saw the following sign: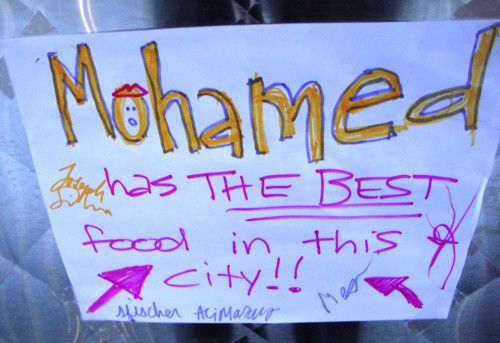 It's little touches like these that makes me think this cart might be worth trying, and I got on line.  I was going to get chicken over rice, the dish that serves as a measuring stick for the Middle Eastern carts – but when two of the people in front of me ordered fish and shrimp, I changed my mind.
Today's Lunch is a fish & shrimp combo from Mediterranean Healthy Food ($8).
I asked Mohamed how long the cart has been in business, and he said 3 months.  The line moved slower than I expected, but that was because he cleaned the working surfaces between each order.  Food scraps were put from the grill into the trash, and he also did some wiping down between orders.  It was obvious he kept the cart as clean as possible.
He put two pieces of fish and 6 large breaded shrimp on the grill, squirted a liquid on top (like Wish-Bone Italian dressing, but not as thick), and put onions and a few green peppers on top.
After letting it cook for a few minutes, he put it all over yellow rice and asked what sauces I wanted.  When I said I like things spicy, he squirted on generous portions of white sauce, hot sauce, sprinkled a peppery-type powder on top – and then went over to a jar of jalapenos and put some of those in as well.  This looked like a pretty good lunch!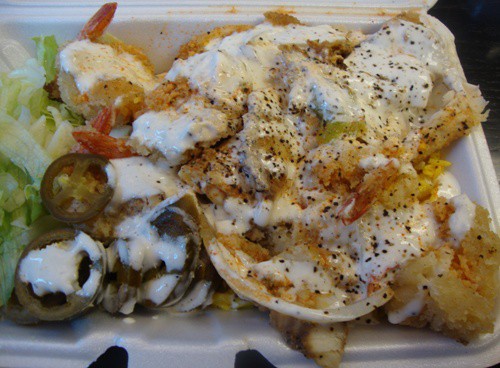 There were 6 large shrimp, and it took 2 bites for me to eat each one.  The breading was light, not heavy, and the shrimp were tender and not rubbery at all.  The shrimp were really enjoyable.
The fish was decent, too.  It wasn't breaded, and there were 2 average-sized fillets.  I like having fish for lunch whenever possible, and this fit the bill nicely, especially with the sauces on top.
The white sauce was mayo-based, but it was a little thicker and a tiny bit sweeter than white sauces from other carts that I've had.  The hot sauce was hot, and the powder sprinkled on top definitely added more heat.  The yellow rice was not overcooked, and had a nice herb-y flavor to it.
Today's Lunch is a solid 7.5 out of 10 for the food, but with 6 large shrimp and 2 fish fillets I'm also adding half a point for value.  I will add Mediterranean Healthy Food to the NYSF directory and map, and will try to get back there soon to try the chicken over rice.
If you try the chicken over rice or anything else at this cart, please leave your thoughts in the Comments.