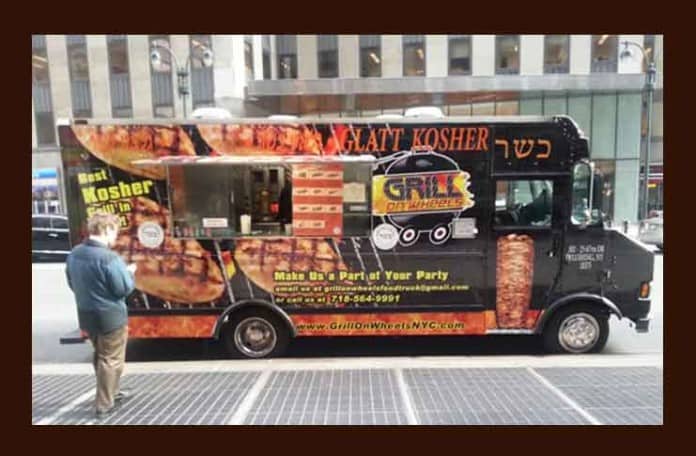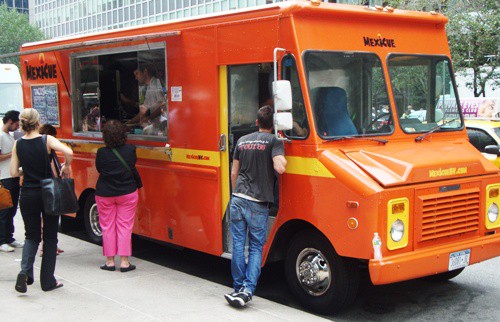 The mercury has dipped a little, but it's still a nice sunny day to enjoy some great New York Street Food from the vendors on the right and the trucks below.
Most of the trucks are out today, with a few exceptions like Souvlaki GR.  Street Sweets will be giving out free chocolate chip cookies to the first 25 people who notice what's different about SS today, tell them and post a picture.
If you want some free fries and ketchup, you'll have to wait until tonight.  The Heinz truck will be in the Meatpacking District on 9th Ave (btw 13th & 14th) from 6:30PM-12:30AM, where you can try their new Dip & Squeeze™ Ketchup w/hot fries.
As always, check our Mobile Munchies twitter feed before heading out in case anyone had to move at the last minute.
waffletruck
Wonderful Wafel Wednesdays are back downtown! We are at Hanover Square until 4:29 today. Your best Turkey call gets you 1 free dinges!
schnitzeltruck Morning park & 26th street. 2day is the last day we'll b slinging schnitz before t-day. We still have turkey and its so good. preorder @ 347-772-7341 . #schnitz4life
VLAIC
Come by 5th & 15th an try an ethiopIan coffee from our new v60 pour over bar
UncleGussys
Hey, were running late, had to pick up the turkey for tomorrow. 51 st and park we here until 3.
CupcakeStop
Good Morning CupcakeStoppers! Slight change of plans, on 5th and 23rd today and in Brooklyn on Court Street and Atlantic Avenue.
Comme Ci, Comme Ça – Soupe du jour: Puglia Lentil Soup ($3). Sweet Thanksgiving's eve: Belgian chocolate mousse! ($3)
StreetSweets
SS will b @ 52St & Lex opening @ 7:45 & will b there til 4p loaded with lots of deliciousness. Later we'll b on the UWS, exact location TBD. 1st 25 people that tell us what's different about Str Sweets today &can document it with a photo @ 12p get a delish choco chip cookie on us
fritesnmeats
Lunch today @ water&broad. Burger of the week THE BYMARK! seasoned angus patty with Brie cheese with a spread of lemon garlicky aioli & mushrooms! FIDI WE HAVE A PACKAGE DEAL FOR YA TODAY! get a burger/fries and a drink & u will get a soup on us.. Soup of the day TURKEY AND RICE! Just mention this tweet 🙂 c ya @ 11! preorder 19172929226
#mobilesecret
cupcakecrewnyc
We're at East 34th St & Park Ave South! Come grab some special
#Thanksgiving
Cupcakes for your friends & family! Today's Flavors: Pumpkin Spice – Caramel Apple – Cranberry Apple Crumb – Maple Pecan – Chocolate Raspberry and of course Red Velvet!