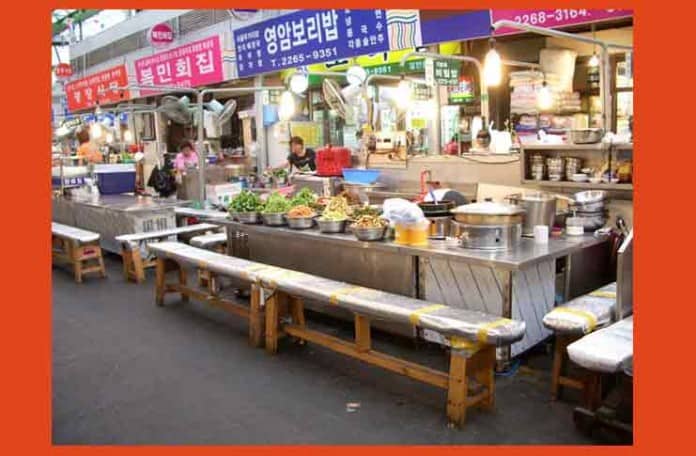 I had been to the Bulgogi Cart once before, but didn't try their namesake dish.  Their short ribs were very good, but if someone's going to name their cart after a dish, I wanted to try that dish.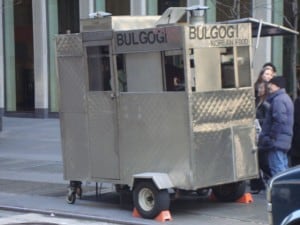 If you don't know what bulgogi is, it's one of Korea's most popular meat dishes consisting of thinly sliced marinated beef, grilled and served over rice.  Every chef has their own bulgogi recipe, so it can vary considerably.  The bulgogi at this cart is marinated in soy sauce, pear puree, sesame oil, black pepper, garlic, onions, scallions, wine and sugar.  The recipe we have at home is more of a sesame-light barbecue marinade.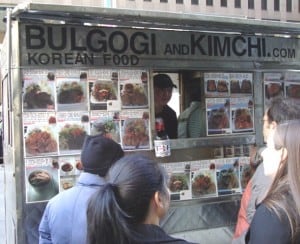 It's a beautiful day, and the Bulgogi Cart was very busy.  There were around 8 people waiting for their lunches, but there was no line to order, so I walked right up to the window and ordered Today's Lunch, the bulgogi ($7).  He asked if I wanted double meat for $2 more, and I couldn't say no to an offer like that.  I was considering a side order of dumplings ($3), but went with the double-meat instead.  All their dishes offer double meat for $2 more.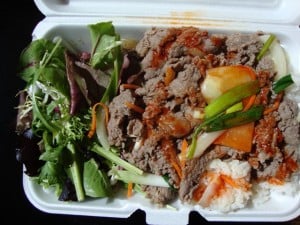 I waited around 10 minutes, and when he handed it over, it was a pretty hefty dish.  He asked if I wanted it spicy, and I said yes, so he squirted a considerable amount of hot sauce over the dish.  There were a few veggies on top (scallions, onions and red pepper), but it was mostly a lot of meat on top of rice.  Next time a single meat bulgogi serving will suffice.
Once I dug in, the meat was tasty.  The marinade flavor was evident, and the hot sauce was spicy, but not killer.  The heat was just right.  It wasn't the highest quality meat in the world, but there was no fat or gristle, and I thoroughly enjoyed it.  On the beef scale, it was in the middle in terms of quality.
There was also a small salad with a light dressing, and it hid a small serving of glass noodles under the lettuce.  At first it seemed a bit silly to have both rice and noodles, but the noodles were part of the salad, and they were really good.
Today's Lunch was an 8.5 out of 10.  In order to get the rating up, the meat quality will have to be raised a little, but this was still a good lunch.  The short ribs were a bit better quality, but The Short Ribs Cart doesn't have quite the same ring as The Bulgogi Cart.