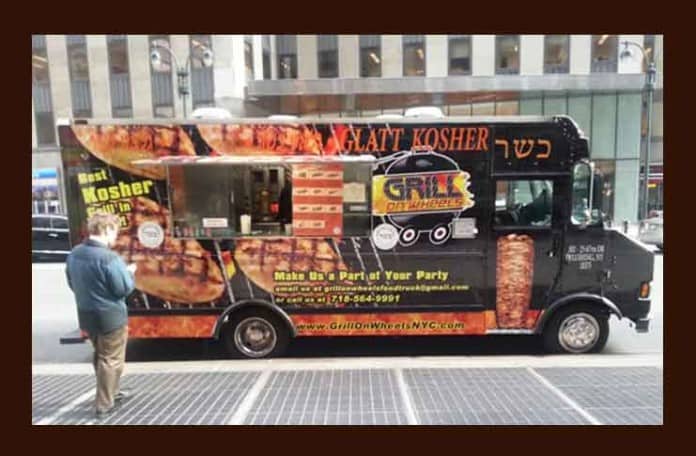 Another beautiful day for this St. Patrick's Day.  Make sure you have some great street food with your green beer. Here's where to find the trucks:
1 new tweet. StreetSweets – We r on 52St just off of Lexington until 3:30p, then off to 9th Av & 59st 4-7p
TheTreatsTruck – Spot change for today! We will let you know asap where we will be!!! Happy St Pattys! See you soon! 5 minutes ago via web
CalexicoCart – Both carts are on the street. Today's special is pulled chicken in an ancho chili sauce. Enjoy
VLAIC – Panda Bear truck @ 6th & 22nd 7am-10am, then 23rd & 5th till 6pm.
RickshawTruck – Come out and enjoy the sun on 57th & 8th from 11-3 with a szechuan chicken
CupcakeStop – 5th & 23 w/ Soda Bread,Baileys Cheesecake,Stout,Irish Coffee,Drunken Raisin,Irish Car Bomb,Red Velvet,Van Van,Triple Choco & Gluten Free!!
waffletruck – We're starting on Broad St. btw Water & Pearl (no parking at Hanover). Tell us, on a scale from 1 – 10, how drunk u have been on St. P's.
fritesnmeats – G'mornin' MIDTOWN!!! Happy St Pattys to all!! We're on 47th bet Park & Lex. Nothing better to soak up the brews than some killer Burger Love
schnitzeltruck – 4000 FOLLOWER ALERT!!!!!! Thank you all.. Will announce the winner of 4 free meals later ton.. C u @11:30 on park ave bet 26th & 27th
JiannettosPizza – Happy St Patrick's Day…In our regular spots ready for lunch…Nothing Irish on the truck, sticking to Italian!
legamintruck – Back in Nyc getting ready to open Greenpoint ! Still serving Crepes at Indian wells Folks love them ,merci
New Jersey Food Trucks
laspicetruck – Beautful day. again!!! St Patties day!! nothing green but come get some good food anyway. lunch huson and york 11:45
TheTacoTruck – Lunch today in Hoboken @ Sinatra and 2nd from 12:00-2:30. Call ahead 201.577.4214
As always, check the pink Mobile Munchies twitter feed on our homepage for the latest information.