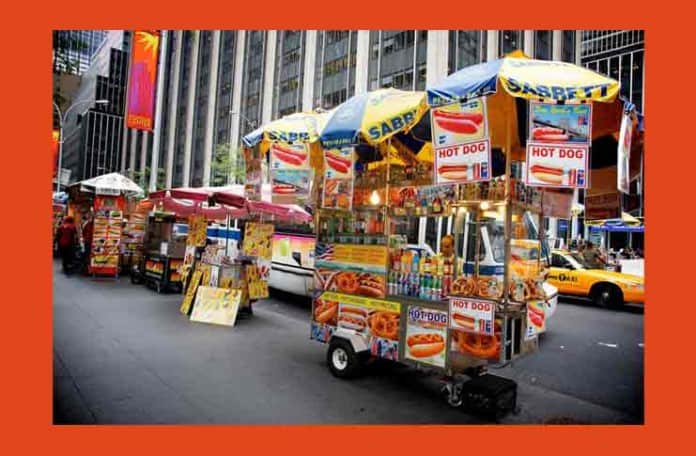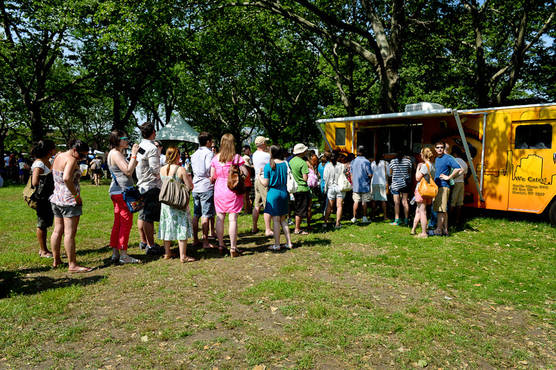 Another food truck event, another opportunity to pay good money to wait on long lines for food and beer at the Brewers PicNyc.  As they say in Latin, caveat emptor ("buyer beware").
NYSF reader gmal emailed us he was "VERY disappointed. I have to pay for the permission to then buy food? Really? Very crowded, we were gathered, or really, corralled into a very small area of the park. It was exactly like a street fair except you had to pay to "get in". Not enough space. Not enough tables, seats/ Really long lines. Really long."
Gothamist reported that on Sunday, the VIPs who paid extra to get early access at 11am had their Sunday morning beer buys nixed by New York's blue laws,  though to make it illegal to purchase alcoholic beverages before noon.
What the event organizers didn't realize was that New York's blue laws were changed in 2006, only making it illegal to sell alcohol before 8am on Sundays.  Wow! Talk about a clusterf___.
The list of successful events with food trucks is much, much shorter than those that sucked.  The Vendy Awards know how to put on a great food truck event, but very few other events have been fun for the eaters, whether it's the Zagat Food Truck Frenzy, Parked, Meatopia,  the Food Truck Rally last weekend in Brooklyn, or countless others.
Last September after the Parked fiasco, we analyzed why food trucks festivals always seem to suck.  These problems still seem to hamper many of these events.
If you love food trucks, you might be better off sticking with a Virtual Food Truck Festival.  Hey Tenka, when is the 2nd one?