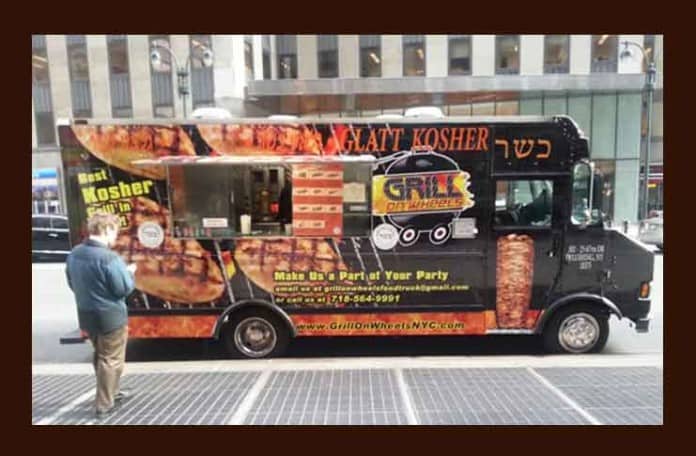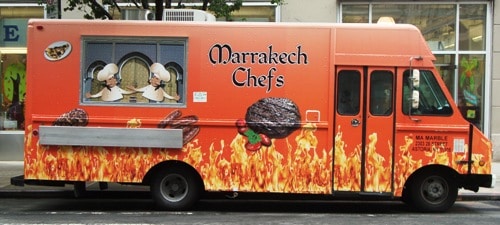 It's a beautiful day, but the clouds appear to be darkening over the food truck scene at Hudson & King.  The police told everyone on Friday that no more food trucks would be allowed there after Memorial Day.  Marrakech Chefs was there early today, but we'll see how things play out as lunchtime gets closer.  With Hale & Hearty Soups and Pret A Manger reportedly opening soon on Hudson St, landlords seem to trying to get rid of the food trucks.
Some of the trucks are trying other locations around there. Bistro Truck is back 250 Hudson (bet Dominick & Broome), where they went last week at the request of a NYSF reader. Korilla 2.0 is at Varick & Vandam and Taim Mobile is at Varick & King.  With different landlords, an avenue block might make all the difference.  Varick has a lot of government buildings, which could also help.
With this gorgeous weather, most of the food trucks are out today, but check the Mobile Munchies twitter feed for the latest updates before heading out.
BistroTruck We are in front of 250 Hudson St bet Dominick St & Broom St. Lunch Service starts at 11.30a until 4p
waffletruck Tuesday is Terrific! Le Grand Wafel Truck is on 52 btwn 3rd & Lex until 4:36. Tell us a riddle for 1 free dinges! Calling all Wafel Carts! Vedette is at 60 & 5th, Goesting is on 52 btwn 6 & 7, Bierbeek is on 31 & Park, Kotmadam is on the Great Lawn. Wow!
Cevaptruck Cevap Truck will be on Water street & Old Slip today!!!