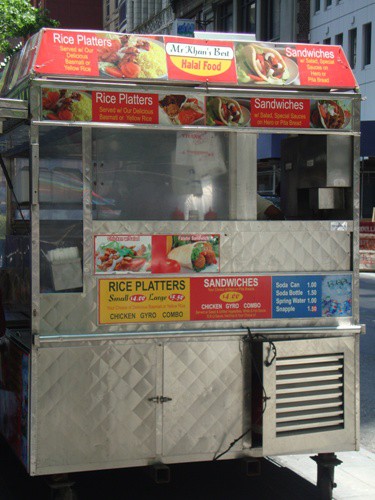 Nearly every time I've had lunch in the 6th Ave/40's corridor, there was a small line at Mr. Khan's Best Halal Food on the NE corner of 45th St & 6th Ave (actually a little in from the corner).  Time to give this place a try.  Today's Lunch is a chicken/lamb combo with white sauce and hot sauce ($5.50).  Click through to find out if it was actually the best.
One option Mr. Khan's has is a small lunch serving for $4 if you don't feel like a large portion for lunch.  I got the large size today, and it was quite hefty.  I may go for the smaller size in the future.
The chicken was mostly white meat, but not entirely.  You could see there was a decent amount of turnover at the cart during lunch, and that the chicken was just recently cooked.  The chicken was chopped into fairly large pieces.  It wasn't shredded into tiny pieces, which is a big plus.  I like my meat in chunks, not shredded.  This was good street meat chicken.
The lamb was gyro meat, but for some strange reason, I was in the mood for it today.  It wasn't overly salty, and it actually tasted pretty good.
The white sauce was mayo-based, but better than the average cart.  The hot sauce was hot, which is all I ask.  Not the hottest around, but certainly respectable.  My lips are still tingling a little.
Mr. Khan's also has 2 types of rice – basmati and an orange rice.  I got the orange rice today and it was very good.  The rice was plump and cooked just right.  IMHO, one of the better rice's around.
One other thing Mr. Khan's does a little different is include veggies in the meat platters.  Instead of using two areas of the grill – one for chicken and one for lamb – they have a third one for mixed veggies, which included carrots, broccoli, green peppers and onions.  This varied the taste and texture, and is even a little healthier.  (When you eat street food for lunch every day, every little bit helps.)
I really enjoyed having the crunch of broccoli and carrots mixed in with bites of meat, rice and sauce.  This would not have worked if the veggies were overcooked, but they retained a nice crunch.  If you're a vegetarian, this cart would be a good option too.  Grilled mixed veggies over rice with white and hot sauce would make a good lunch here.
Today's Lunch was an 8.5 out of 10.  Mr. Khan's Best Halal Food is not at the level of Kwik Meal or Biryani Cart, but it is one of the better halal street food stands that I've had.  I will include them as a New York Street Food Suggested Vendor and add them to our directory and map.