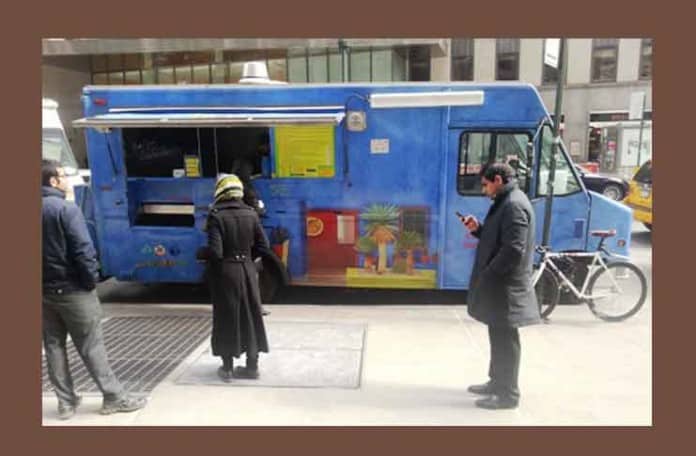 It's Big Gay Ice Cream Day.  Hooray!  They will be at Union Square until around 7, then near Bryant Park for a bit.
Cupcake Stop is also giving away 100 free mini cupcakes and 100 free cups of Oren's Daily Roast coffee to celebrate Oren's becoming a new installation on the truck's menu.  Giveaway begins at noon on 23rd St and 5th Ave.
There are plenty of other trucks and carts out, as they are every day.  Look to the right for where to find the best carts.  Here's where the trucks are today:
1 new tweet.
biggayicecream –
Waiting for my truck to be cleaned. Once out I'll be at USQ til 7, then near Bryant Park for a bit.
RickshawTruck – Hey Dumpling lovers its thurs so we are serving at hanover square also serving at hudson btwn king+houston soaking in the rays.
fritesnmeats – Good Mornin' FiDi! We're on Broad & Water behind the Con Ed caravan. Grab our Burger of the Week, The Marital Bliss! Preorders 917.292.9226
CalexicoCart – Both carts are out today. The special of the day is pollo verde: shredded chicken in a roasted jalapeño/tomatillo sauce. Enjoy
CupcakeStop – 5th and 23rd w/Red Velvet,Orens Special Blend Coffee Cupcake,Chocolate Oreo,Banana Nut Cake and Vanilla Vanilla!Our special beings 12pm…
JiannettosPizza – Happy April Fools Day! Its going to be beautiful weather! Come on our for pasta day today, try our penne vodka or stuffed shells, 9177530819
schnitzeltruck – Mornin 48th & 6th. The weather is goin 2 b schnitz-tastic! 3 order min by phone. Fox let us live!! @martharadio come and git ur schnitz on!
waffletruck – APRIL FOOLS! We're on 46 btwn 5 & 6 til about 4:30pm. Tell us about your best ever April Fools joke for 1 free dinges today.
StreetSweets – Street Sweets IS on Hudson St btw King & W. Houston from 8:30 until 5p……..but wait?
PapaPerrone – We will be on 55th Thursday btwn Park & Mad. We will have our famous eggplant parm
New Jersey Food Trucks
TheTacoTruck – Lunch in Jersey City today @ York St & Hudson St from 11:30-2:30. Enjoy the great Taco eating weather.
laspicetruck – lunch @ hudson and york 11:45-2:30 gourmet sliders, ginger,chile chic wings, coffee, caramel milk choc mousse, raspberry jelly and brioche
As always, check the pink Mobile Munchies twitter feed on our homepage for the most up-to-date information.