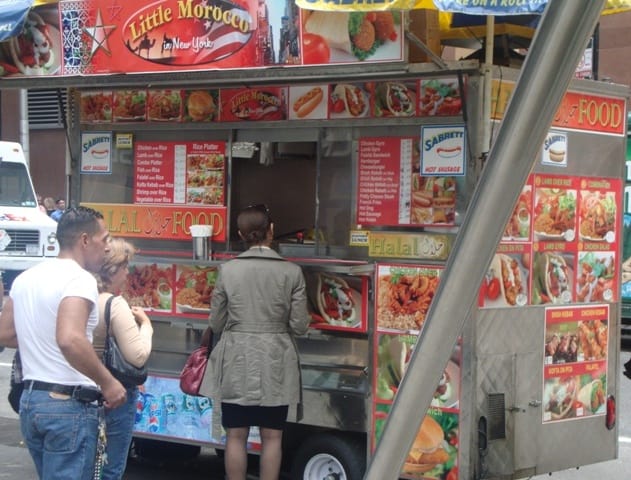 NYSF Note: This lunch review is from about 10 days ago, which we didn't have a chance to post previously.
About 6 months ago, I tried fish over rice from the Little Morocco cart on the NE corner of 39th St & 7th Ave.  They had a pretty standard street food menu, so I wanted to see how they did on the gold standard of New York Street Food, chicken over rice.
Today's Lunch is chicken over rice ($5) from the Little Morocco cart.
There was a line of about 5 people, and several people came up behind me on line almost right away. These guys were pretty busy, and most of the people on line I spoke with were regulars.  I placed my order for chicken over rice with white, green and hot sauce and stepped to the side to wait a few minutes.  When the guy in front of me got his order, I expected to be next, but they put together 2 plates and handed them to the two people behind me.  I asked the guy when my lunch would be ready, since they ordered after me, and he said – "oops, I forgot about you".  Not a great way to start lunch!
He quickly put together my lunch and told the other guy something in Arabic, which was obviously to throw in some free french fries to make up for his error, because that's exactly what the 2nd guy did right away.  I took my lunch and went back to the office.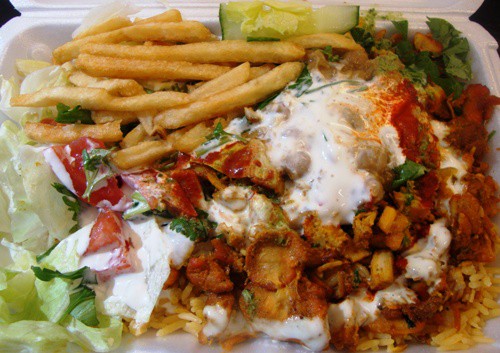 When I opened up the container, there was a lot going on.  There was chicken over rice and chick peas put on top of the chicken.  The 3 sauces were then placed on top of it all.
The chicken was marinated and grilled, and had an orange-yellow color from the spices.  There was a mixture of white and dark meat, and the chicken was pretty good.  The white sauce was ok but nothing special.  The green sauce added some herbiness to a few of the bites, but I would have liked more of it spread around.  It seemed to be concentrated in one area of the lunch.  The hot sauce was a nice spicy harissa sauce, and it permeated most of the lunch with an underlying heat that I enjoyed.  There were also a nice amount of grilled onions in the mix, although the bottom of the container had a bit more oil than I like to see at the end of a meal.  The meat didn't taste oily, but there was a decent amount left over at the end.
The rice was a yellow rice that was cooked well.  It was still moist and plump, and was one of the better rices around.  The salad was very basic and not noteworthy. I don't really like white sauce as a salad dressing.
The french fries were a freebie because they messed up my order, but they tasted a bit old.  I hate to slag anything free, but they were a little cold and not too good.  If they were fresher, they would have been decent fries.
Today's Lunch gets a 7 out of 10.  There were some good things about it and some not-so-good things.  For $5, it's a good value if you happen to be in the area, but there are better halal carts in other parts of midtown.