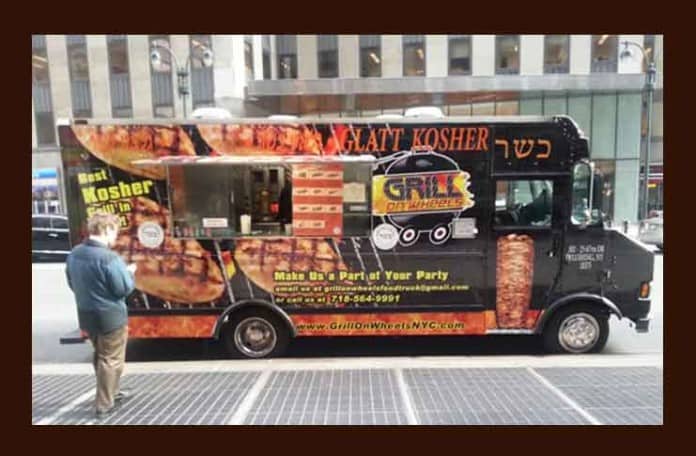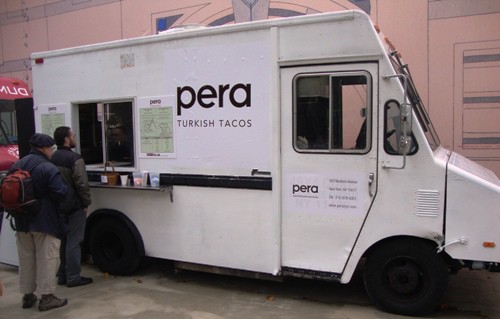 I'm currently in Europe, but here's where the trucks will be in New York today.
Korilla "crowd-sourced" and will be on 55th & Lex by popular demand, and Uncle Gussy's is being inspected and will not be out today.
Street Sweets has 3 different promotions going on this week, so make sure to check their twitter feed here to find out what goodies they are giving away courtesy of Scharffen Berger Chocolate, Seamless Web or Capital One Bank.
StreetSweets
SeamlessWeb Str Sw truck will b on the west side of 6th Ave btw 55/56st @ 11:30a. Get ur $10 off coupon & ur prize containing fortune cookie. Capital One Bank St Sweets truck @ B'Way & 56st till 11:30 get your 2x reward. A % of every purchase made @ our truck goes to NYC Food Bank
Mexicue
Mexicue is on 40th St and 6th Ave…. we'll be open at 11:15!! Our tender carne asada tacos with guacamole yeah baby!!
MalaysiaKitchn Morning, the food truck is at the NW corner of Lafayette and Canal. Come enjoy the food of Nyonya Restaurant, Nasi Lemak and Chicken curry!
EddiesPizzaNY
52nd and 6th today until 3pm. Daily Pizza Special: Pesto Pizza Dinner 4-9 at hudson and bank
KorillaBBQ
Round 2 for 55th x Lex today! We appreciate the love Midtown east! Cast ur vote for tmrw at korillabbq.com!
schnitzeltruck
Ok guys spot secured on 46th b/w 5th & 6th. U know what time it is! Schnitzeroni time! Come come getcha some:) open @ 11:30-2. 347-772-7341
CupcakeStop
Trucks on 98th and Madison and 7th and 29 and shoppe in the Limelight. Limited Supply of Free Muffins until they run out starting at 10am!
quickstopkosher
Waffles???falafel??? One place has it all!! B&H area all day till 6pm. Call 2126746666 for free delivery
waffletruck
Happy Tuesday Midtowners! We are on 52 btwn 3 & Lex until 4:28 today. Tell us your best Halloween costume for 1 free dinges!
joyridetruck
We're 26th & Park. Make your Tuesday morning much better with the best coffee available, @
stumptowncoffee
. Here till 6:00pm.
fritesnmeats
Happy Tuesday! Lunch today @ 52nd and park av! Burger of the week for u hard working peopleTHE PLOUGHMAN preorder 9172929226
souvlakitruck
Hey. We're off the streets today for a catering event. Hope the day brightens for everyone and we'll see you tomorrow.
PapaPerrone
Calzone Tuesday Classic Cheese,The Boss w/eggplant & Pepperoni,The Bensonhurst w/Ham or The Park Ave w/Meatballs.We are on 55th btwnPark&Mad
ETRAVAGANZA Hola amigos! Lunch ready at 11 you know@ 52 ,n park avenue. Our tender carne asada tacos with guacamole yeah baby!!