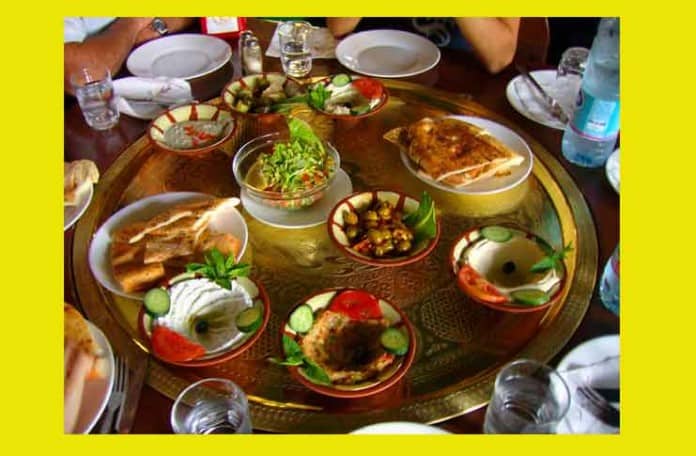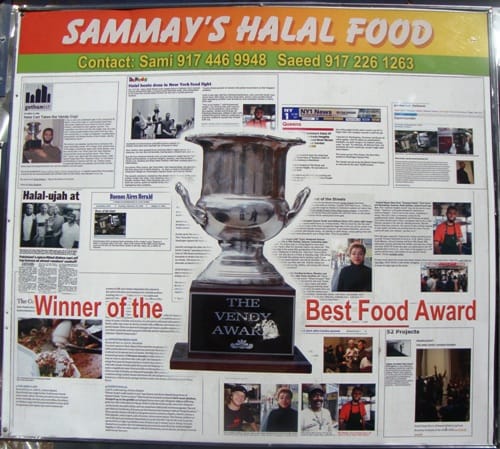 If you happen to be around Greenwich Village, Sammy's Halal Food is one of the best street food vendors in the area.  Since Sammy's won the Vendy Cup in 2006, he has expanded from one cart at 73rd St & Broadway in Queens with 2 others – one in the East Village (Broadway & East 4th St) and the one I went to in the West Village (6th Ave & West 4th St).  I had a very good chicken over rice from here a couple of months ago and wanted to try something different from Sammy's.
Today's Lunch is chapli kebab over rice ($5).
I had never heard of chapli kebab before today, but once I saw it being prepared, it was obviously a form of kofte – spiced meat.  This chapli was in the form of patties, around the same size as a thick breakfast sausage patty.  I have no idea why they call it a kebab, but he took 2 of them, finished grilling them, chopped them up, and put them over rice.  I asked for white sauce, hot sauce – and Sammy's secret weapon, his green sauce.
The chapli kebab was crisp on the outside and soft in the center.  I rather enjoyed the crisp outside, and the inside wasn't dried out.  It wasn't moist, but it wasn't dry either.  The chapli kebab was mildly spiced with some herbs, but didn't have a strong, overwhelming flavor like gyro meat does.  Definitely a nice alternative to chicken or gyro meat.
The white sauce was a little mayonnaise-y, but the hot sauce was good, and as I said above, what sets Sammy's apart is his green sauce.  It's herby and spicy and really picks up the meat nicely.  You could tell there was cilantro and parsley in it, but I'm not sure what else.  Whatever his recipe is, it's good, which is all that matters.  My tongue was tingling for a little while after this lunch.
Sammy's rice is excellent too.  Long, thin basmati rice cooked the right amount of time, and there were some caraway seeds, onions and other goodies in the rice.
Today's Lunch gets an 8 out of 10.  Sammy's is definitely one of the better street vendors around, evidenced by his Vendy Cup win a few years ago – and he seems to have kept up the quality.