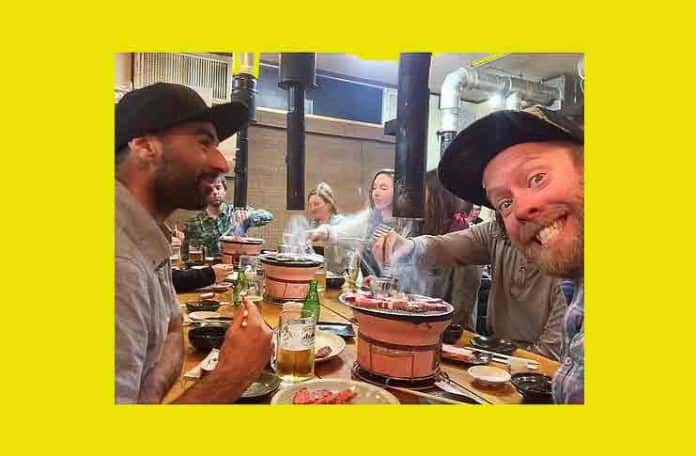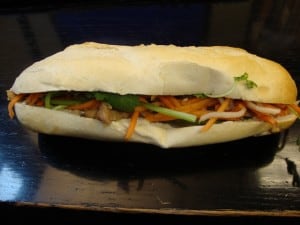 It's been a while since I had banh mi for lunch, so I headed over to Baoguette in Murray Hill at 61 Lexington Ave between 25th & 26th St.  Last time, at the West Village location, I had the Classic Baoguette and wanted to try something new.  Today's Lunch was the BBQ chicken sandwich.
The Baoguette on Christopher Street that I went to last time had around 6 or 7 tables and some counter seats, but this one in Murray Hill only had about 10 stools at a counter and no tables – a true Honorary Street Food establishment.
This banh mi had shredded carrot, whole cilantro stalks, pickled daikon, sliced cucumber, and garlic aioli.  The BBQ chicken was mainly pieces of dark meat with a light BBQ flavor – tasty, but certainly not heavily marinated or sauced. The bread was nice, with a light crunch on the outside and soft on the inside.  It got a little crushed on my trip back to the office, but that didn't affect the taste, only the photo above.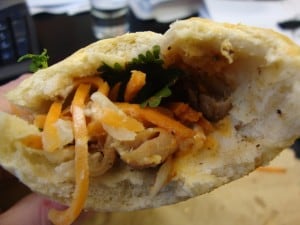 Maybe it's my New York upbringing, but I would have liked more meat on the sandwich.  I grew up on Jewish deli, where the pastrami and corned beef sandwiches are huge.  Meat in Asian meals is often more of a complement than the main course, and that was the case here.  Everything tasted good, but the bites were mainly carrots and cilantro with some chicken included.  The heat level was good – when I asked for medium spicy, it was definitely spicy.
All in all, Today's Lunch was an 8 out of 10.  The food was good, but there was a little too much cilantro (several whole stalks) and not enough chicken, but the heat was spot on.
I'll certainly go back and try some other things, especially since I live near the Baoguette/Pho Sure on Christopher Street.  Their soups may be up next, if I can get back there while there's still a chill in the air.