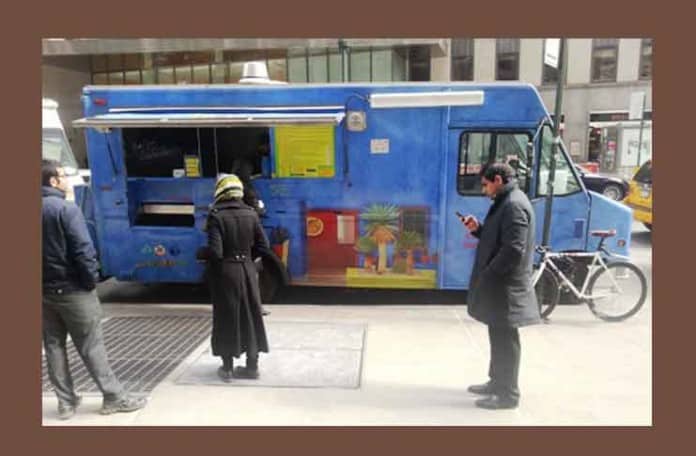 A beautiful day today – the first day of spring-like weather in New York.  Perfect for getting out and enjoying some New York Street Food.  You know where to find the best carts.  Here's where the trucks are today:
VLAIC – Kangaroo @ 5th & 15th till 6pm
VLAIC – Panda Bear truck @ 6th & 22nd 7am-10am, then 23rd & 5th till 6pm.
waffletruck – Sun's out. Get your dinges on! Church Street btw Walker & Lispenard. And actually, free dinges today for naming the Lispenard's sons.
CupcakeStop – Today we're on 52nd and Lexington w/ Red Velvet, Bailey's Cheesecake, Soda Bread, Vanilla Chocolate and Drunken Raisin!!
StreetSweets – Gd morning. St Sweets is Back! We will b on 50 St just west of 6 Av (btw 6 & 7Av) all day today, starting 2 finally feel like spring is here
RickshawTruck – Hey midtown east were on 52nd and lex 11 till 3. Come enjoy the beautiful sunshine with us.
fritesnmeats – Sun's shinin' in Burgerville! We're on Greenwich & Chambers. Give us a shout 917.292.9226
1 new tweet.
JiannettosPizza – In the city, ready for lunch. 47th Street between Park & Madion….100 Wall Street.
CalexicoCart – Both carts are out and spring is in the air. Braised short ribs in a roasted jalapeño/tomatillo sauce is the special of the day. Enjoy!
schnitzeltruck – we should be back on road tomorrow, but ill let ya know
New Jersey Food Trucks
TheTacoTruck – Lunch in Jersey City @ York St. and Hudson St. from 1130 to 230. Get outside to enjoy some tacos. http://fb.me/6r8xYsV
laspicetruck – hudson and york 11:45. new goumet sliders; pork/sauerkraut, brisket/bearnaise lamb/eggplant cavair, tapenade and chicken/ chiptole mayo
As always, check the pink Mobile Munchies twitter feed on our homepage for the most up-to-date information.