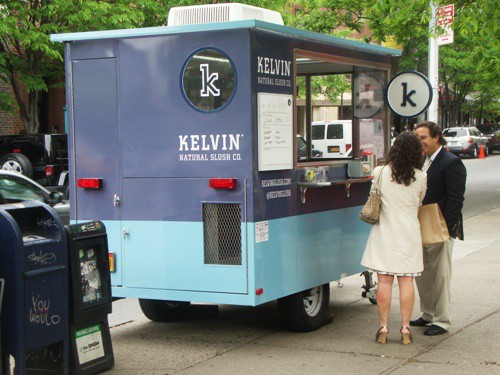 Last year at Taste of the Parks, our friends at Kelvin Slush told us about a new cart they won a bid for with the NYC Parks Dept.  We were even more excited than usual because the park they were coming to was in our neighborhood!
Today that dream is a reality.
After a false start last month, and some mechanical issues being sorted out, the new Kelvin Slush Ice Cube will be out from noon to 9pm daily (7 days a week!) in the Little Red Park on the corner of Bleecker St & 6th Ave.
The Ice Cube has all the same great menu items that helped them win the 2010 Vendy Award for Best Dessert.
Now you know where to get a Kelvin Slush without having to worry about where the truck is.
For our inaugural slush from Kelvin's new Ice Cube, we had our new friend Josh make a ginger base with raspberry mixed in. What an amazing combination – cool and refreshing with a little bite from the ginger and fruitiness from the raspberry mixed in.