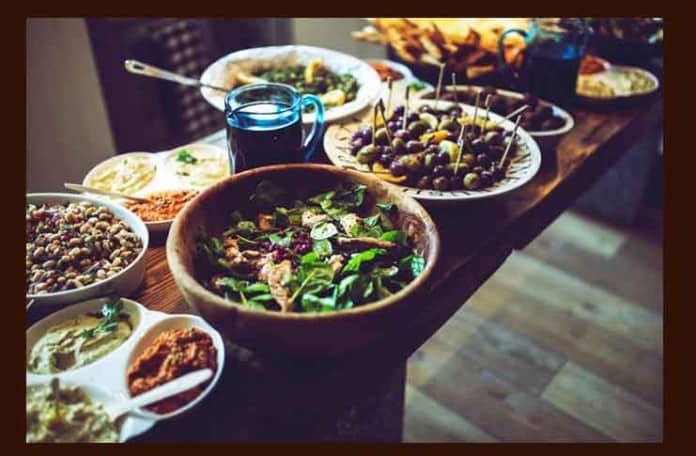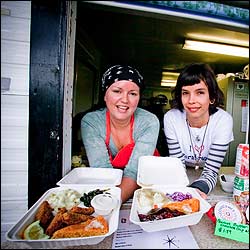 A lot of us equate street food with meat, and we do love our hot dogs, kebabs and schnitzel at New York Street Food.  But it doesn't have to always be meat on the street.  Two cafes in Eugene, OR make vegan meals that serve organic, mostly local and environmentally friendly cuisine that is every bit as flavorful as "real food", the Cornbread Café and Viva! Vegetarian Grill.
The Cornbread Café, owned by Sheree Walters and Kristy Hammond, held its grand opening Jan. 18th.  They want to cook vegan comfort food that doesn't taste like bland, mushy tofu.  Their barbecue tofu sandwich is served on a wheat bun and slathered with slightly tangy and sweet barbecue sauce.  It isn't exactly like a BBQ rib sandwich or pulled pork, but it's hearty and satisfying.  Besides sandwiches, Cornbread Café offers build-your-own meals, each containing a main dish, a side and a vegetable.  "Vegan soul food" is an accurate label for the Cornbread Café. Cornbread Café, 13th & Oak, 11 am-3 pm M-F.
Dave Wagenheim originally started Viva! Vegetarian Grill in the spring of 2006, selling tofu dogs out of a cart pulled by a tricycle.  Now his menu specializes in Tofurkey dogs and what he calls "soysages," as well as the relatively new vegan cheesesteak sandwich.  Viva! Vegetarian Grill makes all-American food items — in meatless incarnations. Among the menu choices are the vegetarian footlong, the Polish soysage and a meatless meatball sandwich. The cart also serves Wandering Goat coffee, organic teas and Genesis juice. The most popular item, Wagenheim says, is the cheesesteak. "Everywhere I have vended, people see it as totally unique," he says. Wagenheim also takes a dollar off food items if you arrive on bicycle, show your student ID or it's raining.  Viva! Vegetarian Grill, 12th & Willamette, 11 am-4 pm M-F. [Eugene Weekly]
All of a sudden, I have a hankering for a falafel sandwich from Moshe's Falafel.  If they're open tomorrow for lunch, I'm there.