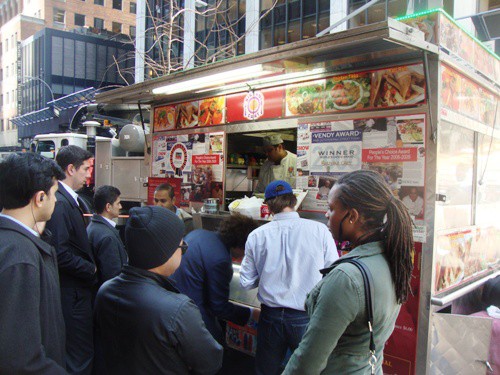 In any conversation about the best street food vendors in New York, Biryani Cart merits serious consideration.  Biryani Cart was founded by Meru Sikder, and they have a strong and loyal following on 46th St just west of 6th Ave.  But you already knew that.
Biryani Cart was nominated for Vendy Awards in both 2008 & 2009.  While they didn't win the Vendy Cup, they did win the People's Choice Award both years, meaning people who attended voted them as the Best Vendor.
The biggest problem with Biryani Cart is deciding what to order.  Biryani Cart has good chicken and vegetable biryani (natch), but I really love their kati rolls. They also have specials like fish curry and goat biryani from time to time.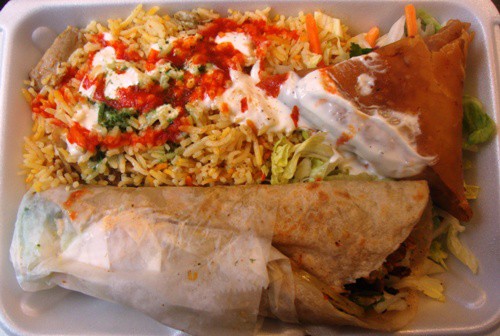 Solving the problem of what to order is Zach's Combo, which is named after Zach Brooks, the founder of Midtown Lunch, who asked Meru to put together a sampler platter.  Zach's Combo has biryani, a kati roll and a samosa for $7.  That sounds like a pretty sweet deal.
Opening up the container, the smell was amazing!  Indian food is usually very aromatic, and this was no exception.
Starting with the chicken biryani, it was obvious where a lot of the aroma was coming from.  Biryani is a dish of basmati rice with various spices and fillings.  I got chicken, but veggie is available too. In the rice were pieces of boneless chicken, whole cloves, cardamom pods, a few golden raisins, and other herbs and spices.  It was topped with 3 different sauces, a white mayo-based sauce, a green herby sauce and a red hot sauce.  Delicious!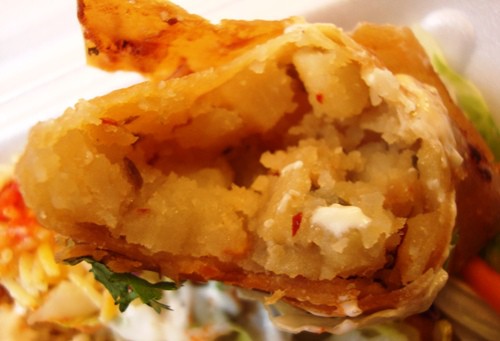 Next up I tried the samosa, the triangle in the photo above.  Most Indian samosas have a thick breaded crust, but Meru makes his with phyllo dough, which gives the crust a light crispiness you don't usually find in samosas.  The potato filling is similar to other samosas, but the potato is spiced really well, and has some heat.
Last up was the kati roll, which is an Indian wrap served on chapati bread with various fillings.  There are 6 different types of kati rolls at Biryani Cart.
I got a King Koti roll, which had pieces of tikka glazed chicken, lettuce, onions, bell peppers, and a light sauce.  The King Koti roll was a tasty finish to the meal.
Another way to get some variety at Biryani Cart is to get their kati roll lunch.  You get a choice of any 2 kati rolls for $6, which is definitely one of the better lunch deals out there.  I love the Chennai roll too, which has a sweet and spicy chili sauce.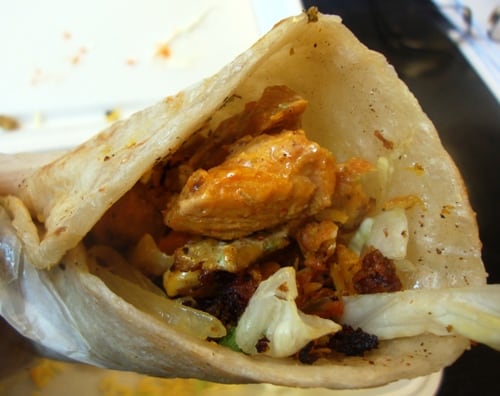 Biryani Cart is on 46th St just west of 6th Ave, and they are there until after midnight every night, so you can go there for lunch, dinner, or after the theater or a show at Radio City.  The food is as good as many Indian restaurants, and much less expensive.
If the weather's nice, there are plenty of places to sit and eat Biryani Cart along 6th Ave, or you can go to the Bank of America atrium on 6th Ave & 43rd St if it's cold or rainy.