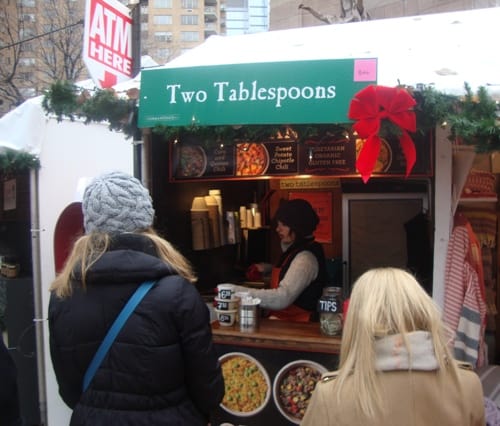 It was cold and damp yesterday, and we wanted to stay near the office for lunch. The Columbus Circle Holiday Market had a few new options for us.
Given the bone-chilling weather, chili sounded like a good idea, and we've never tried Two Tablespoons before.
Two Tablespoons had 3 types of vegan chili to choose from, and they were happy to give samples of each. We asked for samples of Sweet Potato Chipotle Chile and Lentil & Ginger Stew.
As we tasted each one, the server said her favorite was to mix these two together, which sounded like a perfect idea to us.
They offer 3 sizes, ranging from $6.50-$8.50. We ordered the large, which was probably around 12 oz.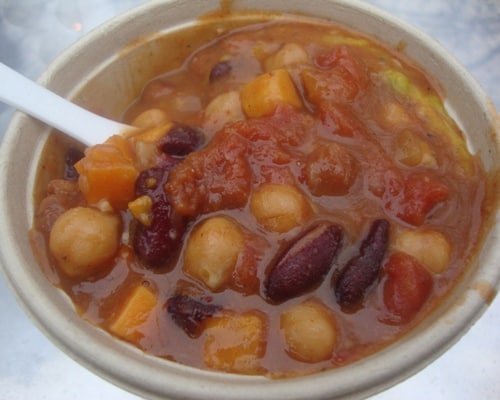 As you would expect in a vegan, organic food stand, all the stuff used to serve (containers, utensils, napkins) was recyclable and 100% compostable.
Digging into the sweet potato chili, there were lots of goodies besides sweet potatoes. We found red beans, peas, chickpeas, onions and tomatoes.
Despite the lack of meat, this tasted like a chunky chili. It was slightly spicy from the chipotle, and had other chili seasonings you expect, such as cumin and coriander. This was a tasty chili, although the sweet potato did get a little lost in the shuffle.
We generally like ginger, but the lentil and ginger stew had a very strong ginger flavor. If we had gotten the lentil & ginger stew by itself, it would have been too strong after a few bites.
Mixed with the sweet potato chipotle stew, the lentil & ginger stew added just the right amount of ginger to the proceedings. It gave the sweet potato stew some ginger taste, but not enough to overpower it.
If there's one thing to take away from this review, it's to ask questions and listen to your server's answers. They know the menu better than anyone, except maybe the chef.
Based on yesterday's lunch, we recommend Two Tablespoons for lunch (or dinner). The sweet potato chili was chunky and packed full of veggies. It was even better when mixed with their ginger & lentil stew.
Two Tablespoons has been showing up in various pop-ups and seasonal markets. You can find them on facebook here, and their website is here.