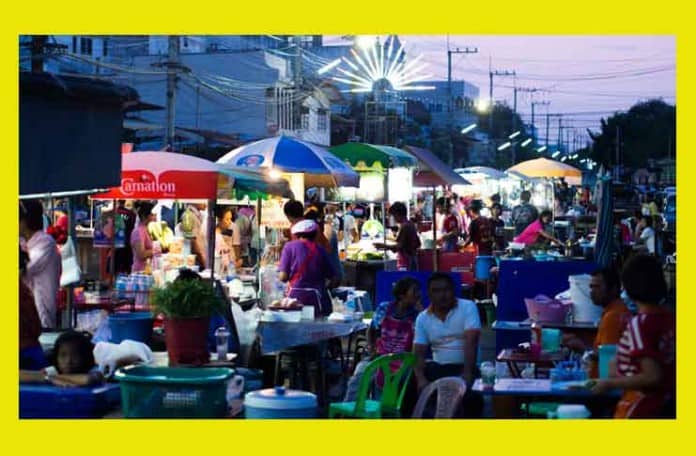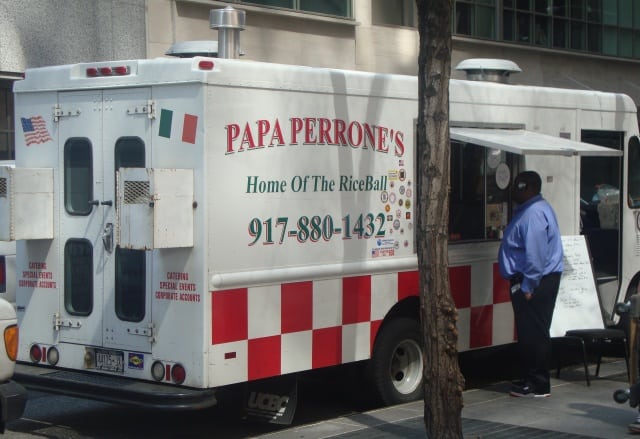 Papa Perrone's truck has been around for a while on East 55th St between Park and Madison Ave.  Today it was time to give it a whirl.
My favorite Italian lunch is a chicken parmigiana hero, but just like yesterday at Jerk Pan, they were out of my first choice.  Yesterday, it turned out great, as I really enjoyed my second choice, the jerk chicken platter.  Would I be as lucky today?
Today's Lunch is a meatball parmigiana hero, which cost $8, but is $1 less without cheese and $1 more if you get it on garlic bread.
My first impression upon opening lunch was "this is a pretty small hero for $8".  The pizzeria near my office (Luigi's on 8th Ave bet 55 & 56th St) has huge, wonderful chicken parmigiana heros for $7.50.  While they are a bit large for lunch, I have brought them home for dinner on many occasions.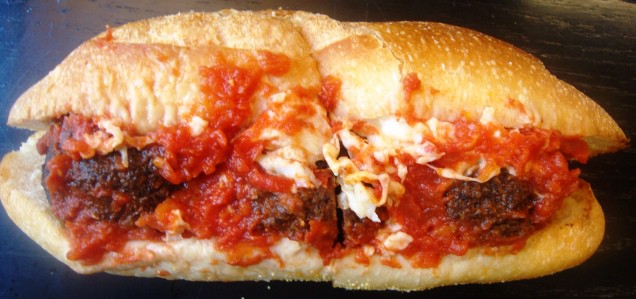 This was a smaller-than-normal hero with 3 meatballs, tomato sauce and a smattering of parmigiana cheese.  No doubt the meatballs were big and nicely browned on the outside, but it seemed small.  As for the flavor of the meatballs, there was the distinct taste of bread crumbs.  Some bread crumbs to keep a meatball together is fine, but this was a little too much.
I liked the tomato sauce just fine, but the hero was definitely light on the parmigiana cheese.  When you order a parmigiana hero in New York, the meat is usually buried under the cheese.  The parmigiana cheese on this hero tasted fine, but there wasn't nearly enough of it, especially with the $1 surcharge.
I've been having a problem with lunch being too filling and walking around stuffed all afternoon.  That wasn't a problem today.  I was full by the end of lunch, but not stuffed (which was a good thing).
However, Today's Lunch gets a 7 out of 10, mainly due to the value proposition.  The hero was tasty, but the meatballs were a little bready, and the parmigiana cheese was definitely chintzy.  This hero would have been fine for $5 or even $6, but $8 was too expensive for this sandwich, especially in comparison to heros at most of the good pizzerias in New York.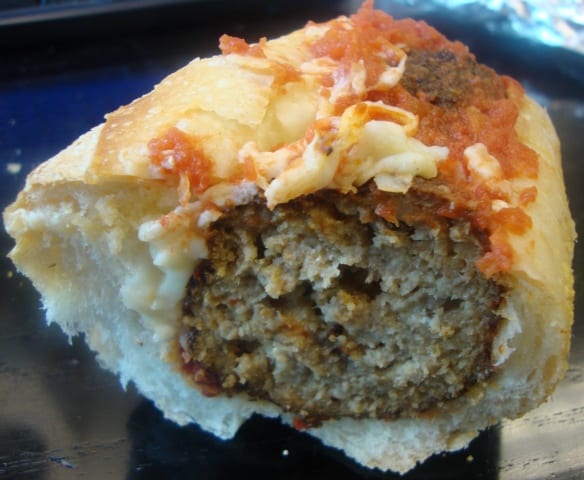 Their truck and website say Papa Perrone's is "Home Of The Rice Ball".  They really talk the Sicilian rice balls up on their website, and have several varieties in the $4.50-$5.50 range.  Maybe I'll give these a try.
If I acted on the rule I followed yesterday, perhaps Today's Lunch would have been a little better.  If the truck and website both say "Home Of The Rice Ball", try the rice ball fool.