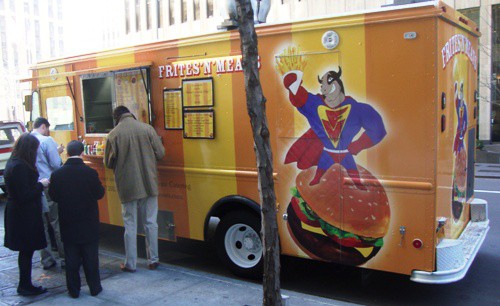 If you want a burger made with ingredients from high-quality, local NYC purveyors, Frites 'N' Meats is the place to go.  Their meat comes from DeBragga, the bread comes from Balthazar Bakery and the cheese comes from Murray's.  Can't get much better (or local) than that!
If you haven't been to F'N'M before, when you order, they have a card where you check off the type of beef (Angus or Wagyu), bun (brioche, potato/onion or sesame seed), cheese (cheddar, blue, brie, goat or gruyere), free toppings (ketchup, mustard, pickles, raw onion, etc) and extra toppings (bacon, garlic guacamole, onion jam, etc).
Of course they have Belgian frites (with half a dozen dipping sauces to choose from), and they often have soup in the cold weather and homemade desserts.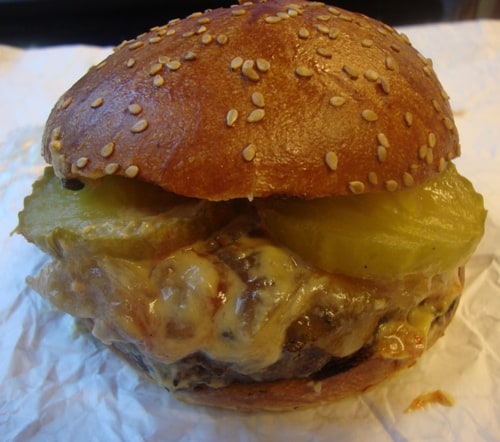 My order was an Angus beef burger with cheddar cheese, ketchup, mustard and pickles ($6.75), and I added onion jam for another 75 cents.  I asked for it cooked to medium, and that's exactly what it was, with some pink in the middle.
The burger was thick and juicy, with the toppings adding exactly what I like to a burger. Delicious!
The hand-cut, double-fried frites ($3) were excellent too, and I got 3 different dipping sauces to try.  The fries were salted nicely, but more importantly, they were hot and crisp.  I hate when you get mushy fries.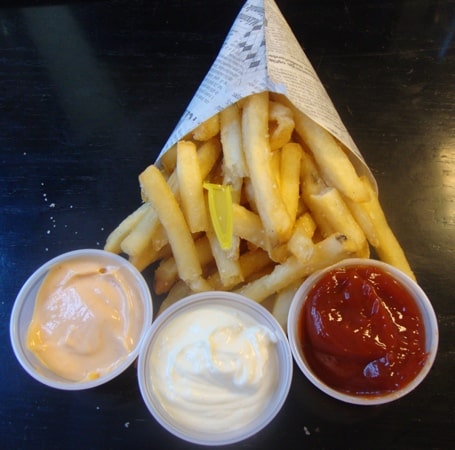 As for the sauces (left to right): the chili mayo was creamy and had some heat; the horseradish aioli had a nice kick too, but it was a different type of heat than the chili mayo, and it would be good as a burger topping too.  The chipotle ketchup was my favorite of the bunch.  Not only was it the spiciest of the sauces I tried, but it was more than  just ketchup with a kick.  There was a smoky richness that was deeper than just spicy ketchup.
Another great way to go at F'N'M is their Burger of the Week.  Instead of choosing your own toppings, try a BOTW.  They rotate topping combinations such as the Texan, Ploughman, Bymark, Smithland, Southwest Fusion and Spicy Jazz on a weekly basis.
The other thing I like about Frites 'N' Meats is they give you a Dum Dum lollipop in each order as a little thank you gift.  I used to eat these all the time as a kid, and it brought back memories.  Sometimes it's the little things that make a difference!
You can find Frites 'N' Meats on twitter here or on our Mobile Munchies twitter feed.  They will be at the new World Financial Center Food Truck Court once a week for the immediate future.