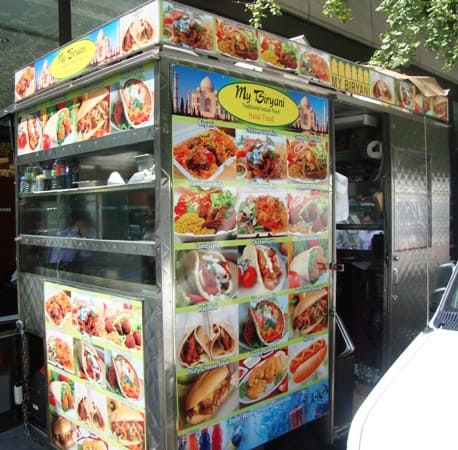 Mid-50's in February – WTF?  Next thing you know it will be ice cream season.  Hey, it already is!  Join us, Coolhaus and Google NY for an Ice Cream Social on March 6th.  Full details here.
It would be criminal not to get out today and enjoy great New York Street Food from the vendors on the right and the trucks below.
As always, check the Mobile Munchies twitter feed before heading out. The police are getting active again in chasing away food trucks.
Sweetery Hey hey hey it's time 2 play, Hudson/King St. Sweetery is ready 2 rock ur taste buds, whatever ur baked goods/beverage pleasure is we got it
Frying Dutchmen
Varick and King today. It's toO nice to stay inside. Come join us on this beautiful "spring" day for some great food.
RickshawTruck
thursdays rock and so do our dumpling truckers! we are at hudson&houston as well as at starrett lehigh on w 26th