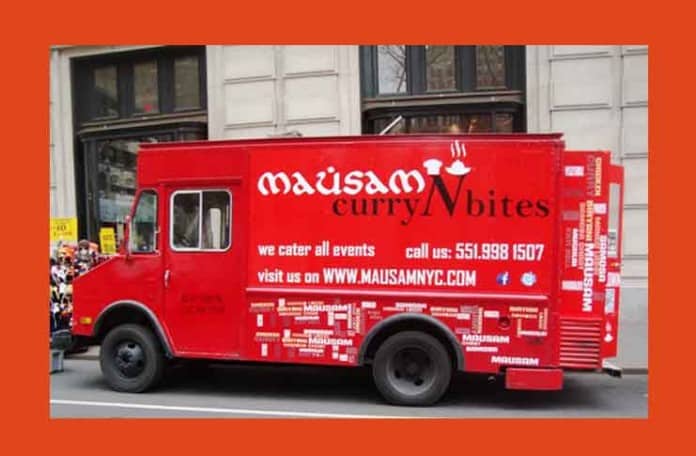 We haven't been to Mausam Curry 'N' Bites for a while. They've recently been parking in our neck of the woods one day a week, so it was easy to stop by.
One dish we have yet to try is the "national dish of England", chicken tikka masala. It cost $8, or $9 with a warm chapati bread, which we recommend.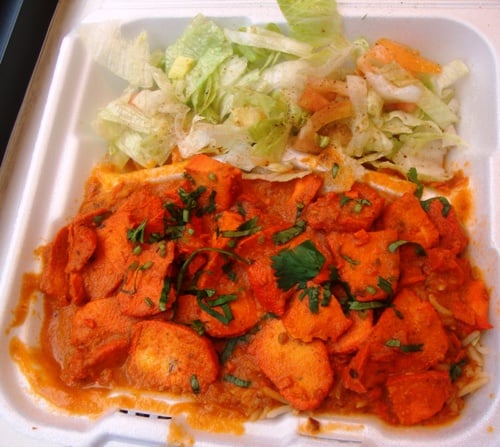 Chicken tikka masala consisted of thin slices of marinated white meat chicken in a tomato-based curry sauce. As you can see, there was plenty of chicken in a lunch serving. With it being chicken breast, there was no problem with funky stuff like cartilage or joints.
The sauce was more creamy than it was tomatoey. We prefer our chicken tikka masala with a creamier sauce rather than having it being too tomato-based.
The sauce was spicy, but not vindaloo hot. Fresh cilantro, which was sprinkled on top, freshened up the sauce.
Below the chicken and sauce, basmati rice served as a very nice foundation, especially when mixed with the sauce.
The chapati bread, which cost $1 extra, was both tasty and useful as a scoop. Well worth it in our book.
Lunch comes with a side salad of iceberg lettuce and tomato. The salad was sprinkled with herbs and spices, and a light dressing. That made it different enough from most of the salad side dishes served on the street, which often come with a mayo-based white sauce. 🙁
This was a nice amount of food for lunch. No problem holding our large appetite in check until dinner.
You can find Mausam Curry N Bites on  twitter here or on our Mobile Munchies twitter feed. You can see their full menu here.