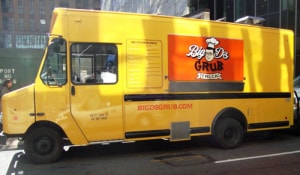 One of the mainstays of the NYC food truck scene is Big D's Grub Truck. They are out serving their customers on the coldest, snowiest and windiest days of winter.
Dennis (Big D) has a new cart he came out with last week featuring pan-Asian dishes. We will be writing about that new cart soon.
The menu choices on the truck are tacos, grinders or rice platters. We got the bulgogi rice platter for $10.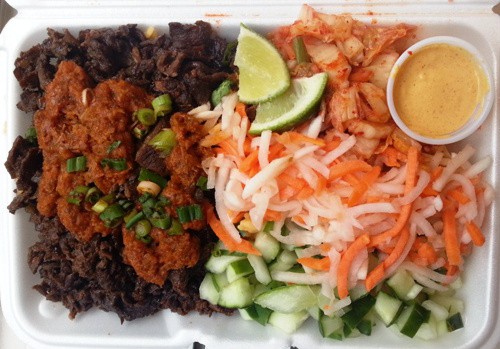 The beef was shredded, and the bulgogi had a nice marinade that gave it a distinctive flavor. You could see just how well grilled the meat was.
The bulgogi was topped with kimchi paste and scallions. The kimchi paste added a fermented, vinegary twist, but adding the sweet chili mayo sauce that came on the side worked well with the kimchi paste.
There were 3 sides next to the bulgogi. Strong, spicy kimchi, pickled daikon and carrots and plain cucumbers. Between the 3 side dishes, you got plenty of different tastes.
Under everything was orange rice (it was a rice platter, after all), which was a good base.
Big D's Grub Truck makes the rounds of different neighborhoods, so find them on Twitter here or on our Mobile Munchies Twitter feed.
Sometimes Big D's has specials for a few days, so keep an eye open.