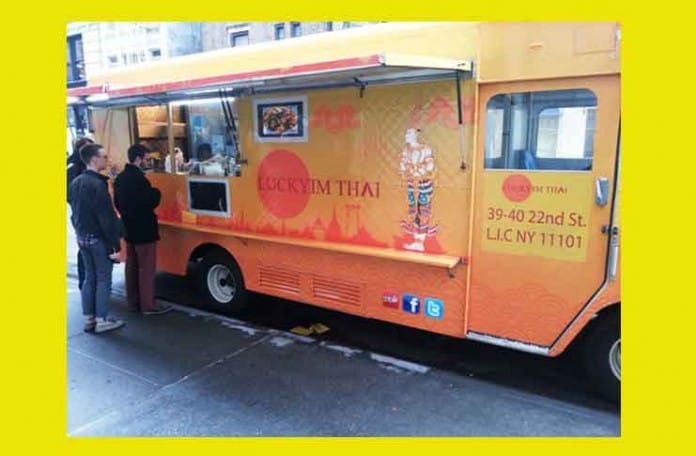 Walking up Fifth Avenue in the Flatiron District last week, we spotted a new truck call Luckyim Thai. We already had lunch in hand that day, but made a note to look up Luckyim's twitter account to find them again.
This time, we checked their twitter feed and made a beeline to the truck, which was parked at 22nd St & 5th Ave. According to their twitter, Luckyim also has a food cart that parks on Water St & Hanover St in the Financial District.
The menu is basically Thai, with a few outliers. We ordered the Drunkman Chicken for $9. How can you resist a name like that?
An order of steamed dumplings was put in too. No reason other than we love steamed dumplings and wanted to try them out.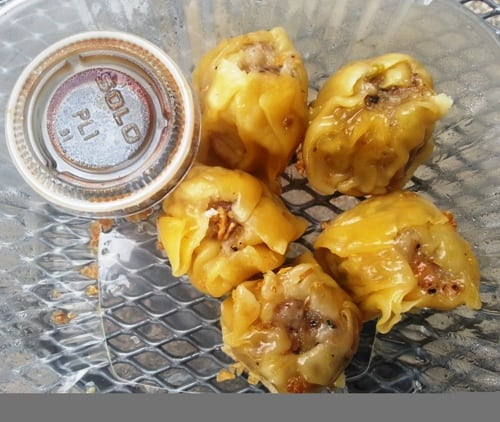 The food came out fairly quickly, and we started with the dumplings.
Thai dumplings are one of our favorite types of dumplings. These were wrapped in an egg-based dumpling skin, and the filling was a spicy mix of ground chicken, pork and shrimp.
There were 5 dumplings to an order that cost $4. In addition to crushed peanuts and some sesame flavoring, the dipping sauce was made with a sweet soy sauce. Yum!
All of these reasons are why Thai dumplings are among our favorites, and they were very good at Luckyim Thai.
The Drunkman Chicken plate was quite heavy, and a little colorful. The beige noodles and chicken were studded with red bell pepper strips and two kinds of greens – basil and bok choy-type greens.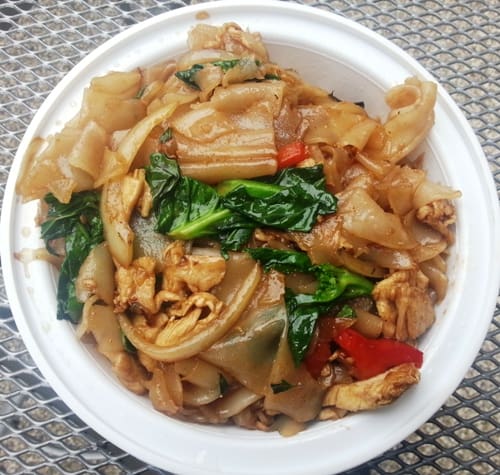 The dish had a fairly strong basil flavor, and was somewhat spicy, so make sure you like spiciness and basil before ordering this dish. If not, there are plenty of other options on the menu.
The flat rice noodles were cooked well, but the chicken was a bit overcooked and dry. We liked the sauce, actually more of a glaze, that was on the noodles.
Overall, we were happy with Drunkman Chicken from Luckyim Thai. There was a LOT of food, and it was good, especially for a new food truck. The dumplings we would call excellent.
You can find Luckyim Thai on twitter here and on the  Mobile Munchies twitter feed.
Next time we might go for the Thai Burger. Who knows what that could be?