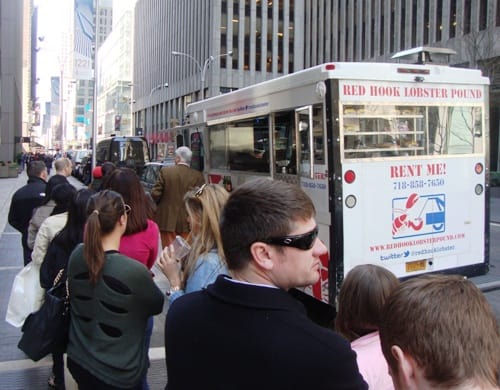 Feel like lobster rolls? The Red Hook Lobster Pound, like many other businesses in the area, got wiped out by Hurricane Sandy. Not only were most of the restaurant and supplies damaged, but Big Red (their food truck) was put out of commission permanently.
Most of the Red Hook businesses have decided to rebuild, and in their case, also buy a new truck.
Friday was their first day back with the new Big Red, and we caught up to them on 49th St between 6th & 7th Ave, where a line of about 12-15 people were ahead of us.
We've already had most of the items on the menu, but wanted to welcome them back and say hello to Susan, one of the owners who was working the line.
Upon looking at the menu, we realized the Tuscan Lobster Roll was never reviewed on NYSF, so that gave us something new to try. It cost $16.
Most lobster rolls are either served warm with butter (Connecticut style) or cold with mayo (Maine style).
The Tuscan Lobster Roll is served with a basil vinaigrette. Instead of the warm bath of butter or creamy mayo in your mouth, there's a zing of vinaigrette.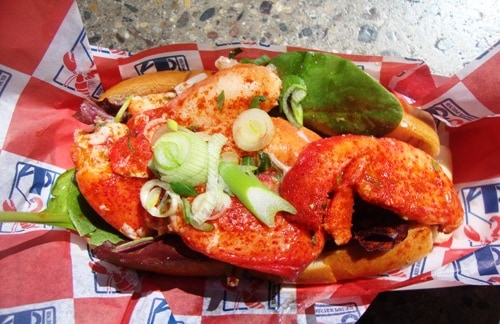 Luckily, the lobster is comprised of large chunks of claw, which stand up well to the vinegary dressing. The lobster pieces were too large for us to eat without biting into them, which is unusual for us.
A few scallions, a couple of dashes of paprika, and some greens finished the job, and made for a delicious lobster roll.
We can't forget to mention the toasted, top-sliced bun, which was also warm and tasty, and added to the overall experience.
It was great seeing Big Red back in action again. You can find them on twitter here or on our Mobile Munchies twitter feed.
If you don't want to track down the truck, the original Red Hook Lobster Pound has reopened in Brooklyn too.