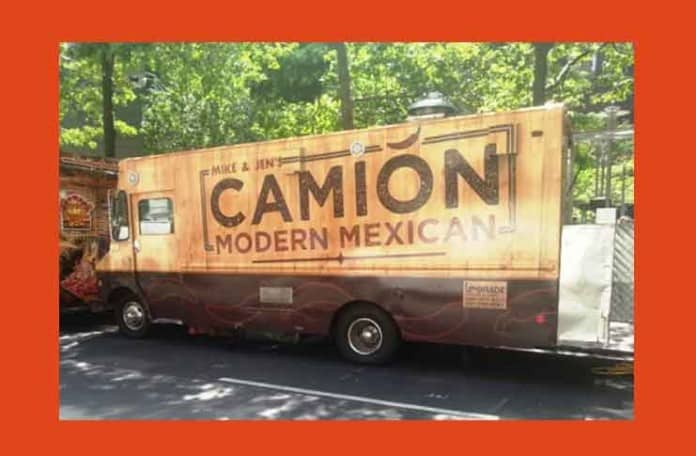 We're going to let you in on a little secret. The new food truck Camion is the revamp of an old food truck that's going to be featured on the pilot episode of a Food Network/Cooking Channel show this month.
This new show reinvents an old food truck with a brand new concept. The show's title is not yet set, but we hear two names under consideration are Truck Impossible and Truck My Life (get it?).
Do you remember Mike 'N' Willie's? The full name of Camion (Spanish for truck) is Mike & Jen's Camion Modern Mexican. The same Mike from Mike & Willie's is involved here.
The menu is obviously different, but one thing that remains are the cod fritters. Since we had those already, the Fish Dog for $8 was our choice. Luckily, we got the last order on the truck. Sorry about that, everyone behind us on line.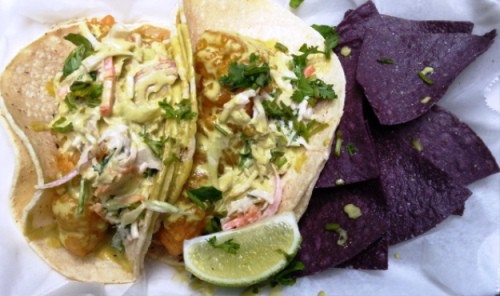 The Fish Dog lunch was comprised of two tacos filled with cornmeal battered cod. The batter was crispy, and the fish inside flaked nicely.
On top of the fish dog was a slaw with cilantro lime aioli sauce, and some fresh cilantro leaves. The taste of fresh cilantro in a creamy sauce came through loud and clear.
With the size of the fish dog and toppings, two tortillas were required to avoid breakage. One tortilla holding this lunch would have been a disaster.
As a side dish, a nice portion of purple corn tortilla chips was included.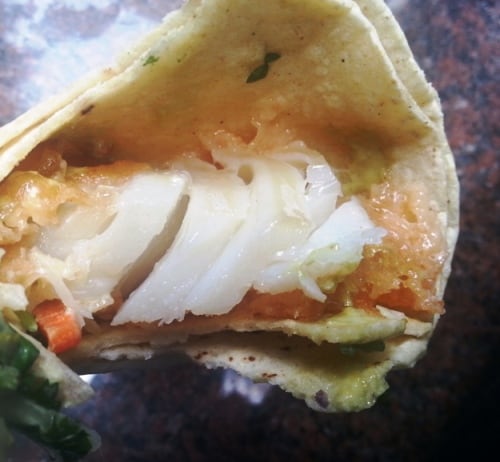 In addition to fish dogs and cod fritters, Camion also has chicken and beef burritos and veggie tacos.
We understand a twitter handle for Camion Modern Mexican has been reserved, but it has not been activated yet, so you're just going to have to keep your eyes peeled for now.
We caught the truck on 46th St just east of 6th Ave, and they have been seen in the Financial District too. Camion's facebook is here, and everything else (twitter and website) should be up and running soon.