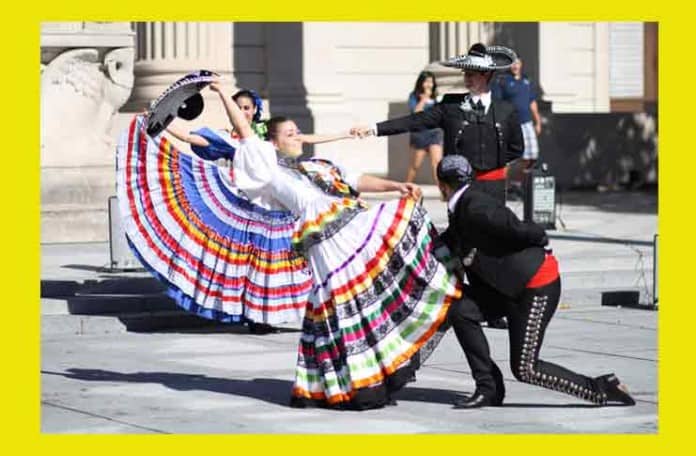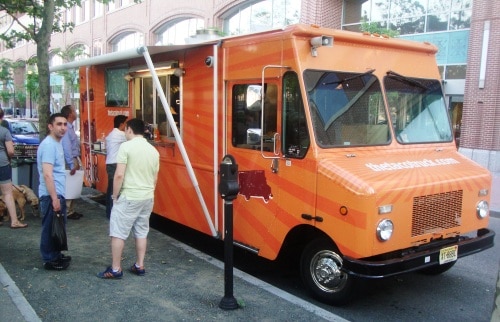 I needed to bring home dinner a few days ago, and The Taco Truck (TTT) was on Sinatra Drive between 1st & 2nd St in Hoboken, only 2 blocks from the Hoboken PATH station.  I've heard some really good things about TTT, and at this location, it was an easy ride from midtown to Hoboken, then back home to Greenwich Village with dinner.  Here's the view from the truck in Hoboken: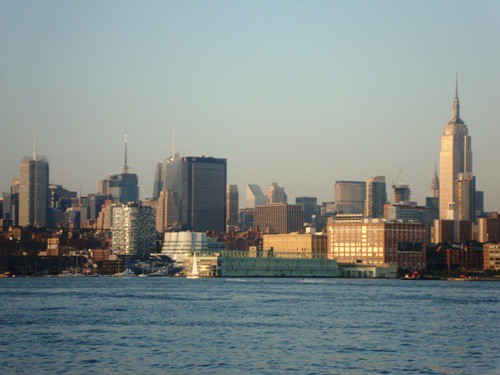 Checking out their menu, the Taquiza looked perfect.  This was deconstructed tacos sold by the pound that serves 5 people – approximately 18 tacos.  You choose two taco styles and two salsas, and they give you plenty of tortillas, onions, cilantro, limes and sides of rice and beans.  It cost $59, and we happily made our own tacos.  There are also larger packages available, but we were serving 5, so this was just right.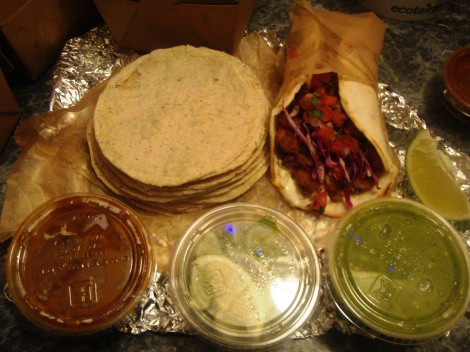 For the two taco styles, I opted for Carnitas Michoacan (pork) and Pollo Asado (chicken), and since I'm the only one in my house who likes (loves!) fish tacos, I added one of those.  They have 3 choices of salsa – roasted red, fresh green and chipotle.  I asked for one mild (green) and one hot (chipotle) salsa.  Here are pictures of the dinner components before we made the tacos.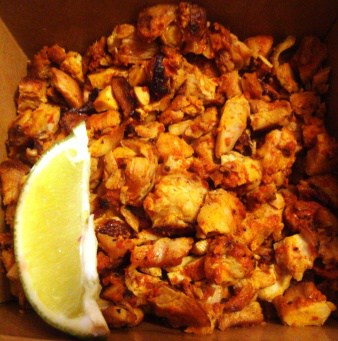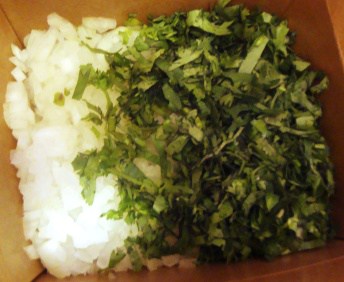 We assembled plates of tacos and rice and beans, using the fresh ingredients provided – two tortillas per taco, meat, onions, cilantro, salsa and fresh lime.
The first taco I tried was the Pollo Asado.  The chicken was obviously marinated and nicely grilled nicely before being chopped into bite-sized pieces.  This was a very tasty taco.
However, when I tried the Carnitas Michoacan, it was even better.  The pork had an underlying depth and richness that was awesome.  The chicken was a lighter-tasting taco and the pork was a deeper, more intense taco.  Both were excellent and you couldn't go wrong with either, but my house preferred the carnitas.
The rice and beans were a very good side dish.  Yellow rice with refried beans and a little cheese on top. The perfect side dish for this meal.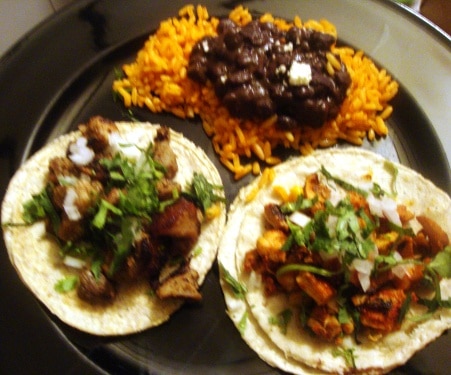 Last but certainly not least was the fish taco. This dish is a personal favorite of mine, and it didn't disappoint.  Chunks of crispy fried fish, Mexican slaw, pico de gallo, chipotle salsa and Mexican tartar sauce.  I squeezed some lime on it, took a bite, and was in heaven.  I would eat fish tacos all the time if I could.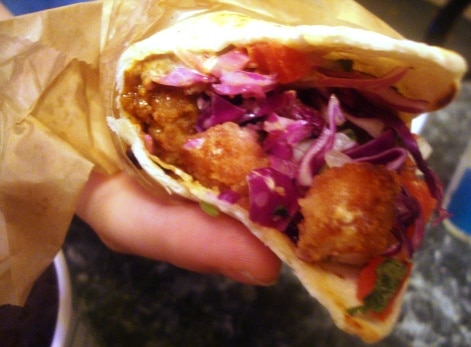 The food from The Taco Truck reminded me of the tacos I had in Mexico City a few years ago.  I was there on business, and the people I worked with took me out to a local restaurant on the last night.  The tacos were very similar to these: two tortillas, meat, onions, cilantro, a little salsa and lime.  Nothing too fancy, but you need good, fresh ingredients to pull it off – and The Taco Truck pulled it off very well.  We all enjoyed it very much (and there was even a little left over for the next day).