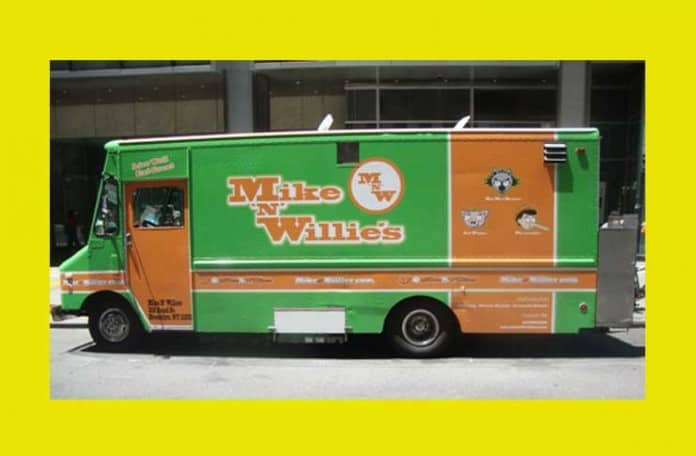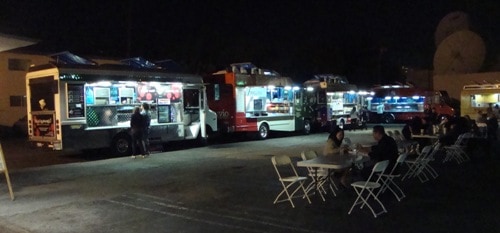 When I got back to my hotel before dinner last night, I was checking out which food trucks would be where for dinner.  I saw that a bunch were together in West LA at something called West LA Din-Din-A-Go-Go.
I found out it was held every Monday from 5-9pm at 10601 Washington Blvd in Culver City, right across the street from Sony Studios.  When I got there, 10 food trucks were in a rectangular parking lot, with some tables and chairs in the center.
I was told the truck lineup varied from week to week, but tonight there were (clockwise as I entered) Fishlips Sushi, Tastyment (Turkish wraps), Vesuvio (Italian), Tapa Boy (Filipino), Chef Che's (Argentinian), The Greasy Weiner (deep-fried hot dogs), White Rabbit (Filipino fusion), Don Chow's Tacos (Chinese-Mexican), Boba Tea and Lee's Philly (cheese steaks and Korean tacos).
There were so many trucks to choose from, where should I begin?
Knowing that I wasn't going to be able to try everything, I decided to eat only main dishes, and get samplers where possible.  My first stop was Don Chow Tacos, where I got a sampler of 3 tacos for $5.  I asked the server what he suggested, and he said the Chinese pork BBQ, kung pao chicken and carne asada steak tacos.  Sounded good to me!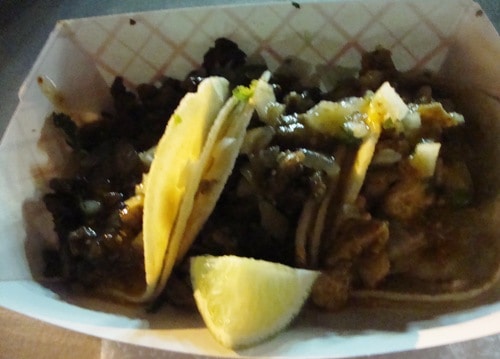 It was pretty dark in the seating area, and the picture above didn't do these tacos justice.  Don Chow's Tacos came in mild, medium or hot – so naturally I got hot.  The meats were all nicely marinated, they put onions and cilantro on top, and 2 tortillas were used for each taco.  (I hate when places cheap out and only use 1 tortilla per taco.)
I squeezed fresh lime on and dug in.  The tacos were a bit messy but delicious, and pretty spicy too.  My favorite was probably the kung pao chicken, but they were all tasty.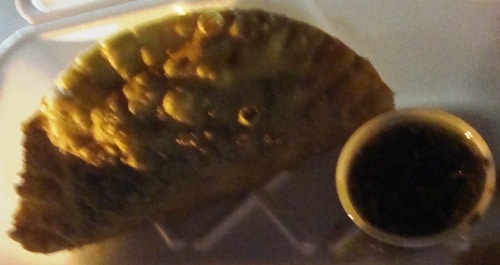 Next up I tried an El Che empanada ($3.50) from Chef Che's.  This was a traditional Argentinian beef empanada with ground beef, carrots, egg, raisins, olives and herbs wrapped inside a deep fried shell. The filling was very flavorful with all these different ingredients, but the beef and herbs were the main flavors.
I'm not sure exactly how he did it, but this was one of the softest, flakiest empanada shells I've ever had, and I've had plenty over the years.  The shell was crisp, but when I took a bite, it nearly melted in my mouth.  The empanada was served with a chimichurri sauce that had a nice, vinegary kick.  The combination of the chimichurri sauce and the beef empanada was excellent.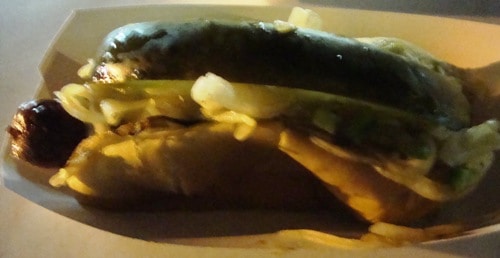 Right next to Chef Che's was The Greasy Wiener, which served hot dogs in the deep-fried NJ style.  I wouldn't normally go for a place with "Greasy" in their name, but I've read about NJ deep fried hot dogs, and never had a chance to try one.  I spoke with the owner Adam for a bit, and he does come from NJ.  I travelled 3,000 miles for something I could get less than 20 miles from home, but I never had a chance to try one until tonight.
The Greasy Weiner was the real deal.  Adam told me they even make their own hot dogs.  I asked for a spicy Greasy Wiener ($4), which was served with grilled onions, a dill pickle spear, and one premium topping – bacon, chili or cheese.  Bacon, of course!
The deep frying gives the hot dog a nice snap when you bite into it.  Pickle spears on hot dogs is usually associated with Chicago, but I always put pickle relish on my hot dogs, so a pickle spear was not that different.  I really liked it, although it did make the physical act of eating it a little tougher.
After I told Adam about New York Street Food, he asked me to hang out a minute, and then gave me dessert on the house –  a deep-fried twinkie with fresh whipped cream and bacon.  Good thing my cardiologist is on speed dial.
The combination of a deep-fried twinkie, fresh whipped cream and crumbled bacon doesn't sound great – it sounds amazing!  And it was as decadent as it sounds.  Thanks for the great hot dog and dessert Adam.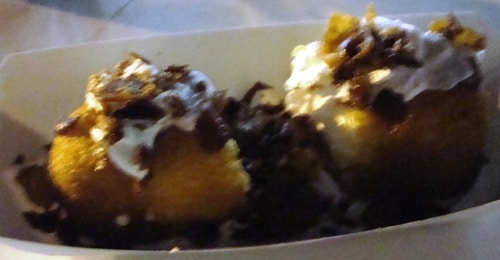 At this point, I was pretty stuffed, so I headed toward the exit to go back to my hotel – but on the way out, I spotted a spicy shrimp taco ($3) being served by Lee's Philly truck and just had to try one.  I figured, how big could a taco be?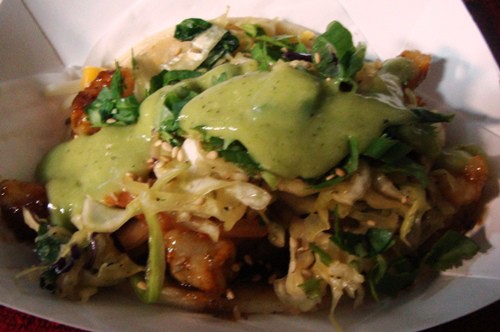 I chatted with the woman taking my order, and she asked if I wanted kimchi on the taco (yes), and she told me the lime avocado salsa went well with the shrimp tacos (which I squirted on).
When it was served, boy was I mistaken – this thing was huge!  They automatically give you a fork with the order because the taco is so stuffed.  There were 2 tortillas, but with the abundant shrimp and kimchi, you literally couldn't pick it up to eat.   You had to use the fork to eat half the taco filling.  Then it was possible to pick it up.
The shrimp were grilled and juicy, the kimchi was cool and spicy at the same time, and the spicy sauce was a little sweet too.   This was an awesome taco!
Everything I had tonight was very good, but the spicy shrimp taco and beef empanada were probably my favorites.  Glad I changed my mind and had one more thing before leaving, even if it was twice as big as I expected.
The West LA Din-Din-A-Go-Go was a great way to spend a Monday night for dinner.  I couldn't try all 10 food trucks in one evening – but I did get to try 4 of them – and thoroughly enjoyed each and every one!
Can't wait to see what tomorrow has in store.