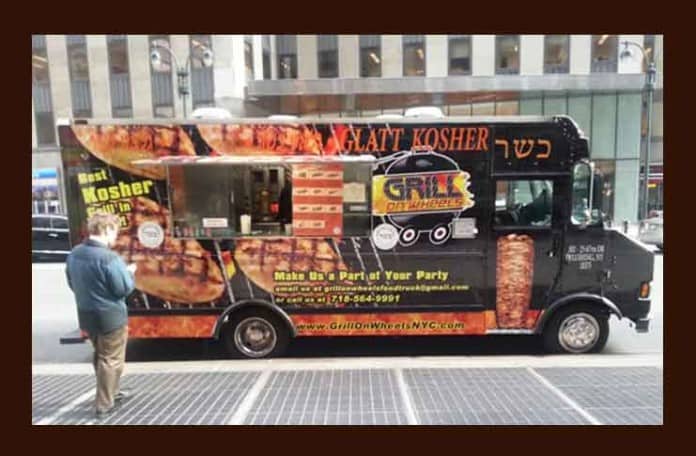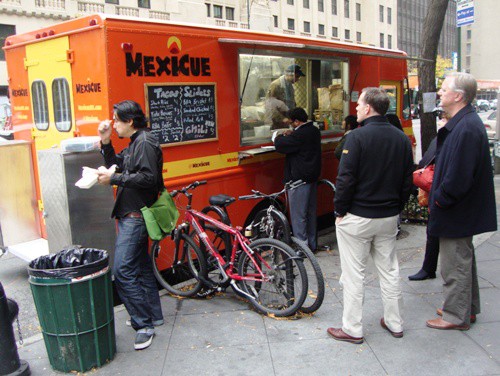 Another snowstorm is hitting NY, but some of the trucks are out today.  Since it's going to get worse as the day goes on, please check the Mobile Munchies twitter feed before heading out.
We have only included the trucks below that are out. If you don't see someone on the list below, it's because they are not out today.
Mexicue
8th and 5th – open at 11:30. We have a snow day special today to keep you warm: free hot chocolate with any order over $8
RickshawTruck
Wednesday: Trucks are located at Rock Center (50 bet 6av+7av) and also down in Fidi (Hanover Square) and Soho: Houston + King
EddiesPizzaNY
Right now we are open on 46th btwn 5th and 6th. Our weekly special has been a hit! Spinach, Artichoke Hearts and Garlic on a Pie. We r braving the weather on 46th btwn 5th and 6th. Call ahead your order 917-439-7522
TaimMobile
52nd between 6th and 7th today. Were right next to the atrium. u can order and wait under the cover and well bring u ur order Sabich today! We have carrot coconut ginger soup today too! And as always, mint tea (honey optional !) to help fight the cold !
PapaPerrone We are on 55th and we will have calzones today. We have baked ziti,meatball parm,chicken parm,riceballs & pizza.
UncleGussys
Good morning everyone This has got to be the toughest winter. Afgolemono soup made by none other than mom. Cousin Tony made us a delicious baklava mini
fritesnmeats
Lunch today @ Hudson & king. Burger of the week THE SOUTH WEST FISION BURGER(grassfed angus patty with pepper jack cheese spicy guacamole applewood smoke bacon & homemade sweet chili sauce 🙂  preorder 9172929226. Come get a hot soup homemade beef soup:)
KorillaBBQ
FiDi! Lunch at Gouverneur ln. And Front. St. Call 347-244-5515 To place preorder before 12 3 order min. See you soon!
Comme Ci, Comme Ça
is on 55th St @ Lex today!
cupcakecrewnyc
Good morning financial district today we are parked on Hanover Sq. btw Water & Pearl st with 5 flavors..Todays flavors:Red Velvet,Chocolate Peanutbutter,Raspberry Coconut,Vanilla Choc(Classic)&Lumberjack Lou(Van cake w/smoked Bacon & Maple.
waffletruck
Wet Wafels Wednesday at Ze Truck on Hanover Sq btw Water/Pearl till 4:26! Cartacular Wafel Carts! Goesting at Greenwich and Murray until 5pm! Vedette is on 60th at 5th ave until 5. Have a Spektacular day… For an xtra dinges: How tall was the world's tallest snowman? Hmm?
LCBBurgerTruck
The LCB Burger Truck is located at 101 Barclay Street today. Enjoy!