One thing we don't have in NYC is a Brazilian food truck (or cart). That's an awfully big country not to have representation on the NYC streets. Sure, there's Little Brazil, a block of West 46th St, but we need something like Ta Bom.
Ta Bom means "It's Good", which is an appropriate name for this truck.
The menu had some things we recognize like a veggie bowl, "straganoff", and a "hamburgao", which is a hamburger with some pretty funky toppings.
Searching for new things, we decided to get a bauru sandwich for $8 and a brigadeiro for dessert for $1.
You can get bauru with either steak or chicken breast. We've had a lot of chicken lately, and decided to get steak, which turned out to be a great choice.
Bauru was sort of a cross between a steak sandwich and a Cuban sandwich. There was steak, caramelized onions, mozzarella cheese, plus tomato and pickle slices on the bottom of a soft baguette.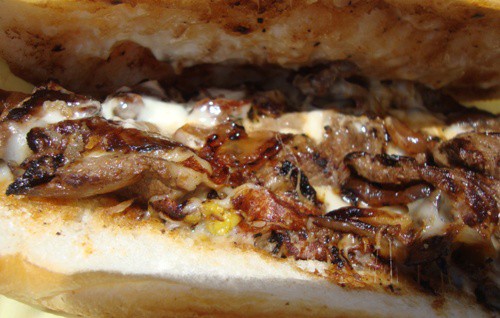 The beef was flame-grilled, with nice charring, and every piece was tender and tasty. There were plenty of onions and melted mozzarella, although most of the cheese was in the back of the sandwich.
Can you tell we really enjoyed the bauru? Even the bread was soft and excellent.
Time for dessert, and a small brigadeiro was perfect.
The brigadeiro was like a truffle with chocolate sprinkles, but inside was fudge. We think there might have been a little caramle mixed in too.
There were about 3-4 bites in total, and we enjoyed every one.
You can find Ta Bom on twitter here, and their website is here.
If anyone wants to open a Brazilian food truck in NYC, we'll be first on line, as long as it's as good as Ta Bom.