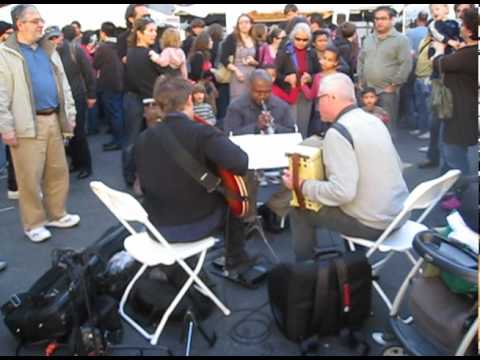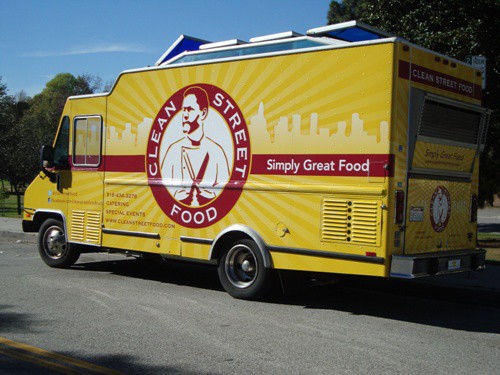 On my first day in L.A. (yesterday) the guys here told me about a spot where a food truck usually parks.  I'm working in Universal City where there aren't a lot of food trucks around, but there was a truck called Clean Street Food at the spot today.   Now that I know the truck, I went to their site and reverse engineered the location – Universal Gate 2, Weddington Park & Valleyheart (just off Lankershim Blvd), in case you're interested.
The truck was founded by Chef Jack Harding, who has 25 years of cooking experience in some of the most prestigious kitchens on both East and West Coasts (according to their website).  I went for the grilled pork, pickled onions, cilantro, romaine and chipotle sauce on a roll ($7.25).  I also ordered french fries ($3.50) – and then I received a special surprise for dessert!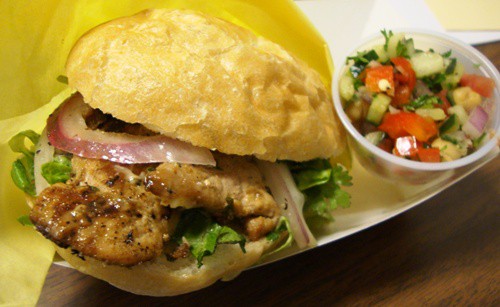 The grilled pork consisted of long pieces similar to what you find in a sate.  The pork was picked up nicely by the cilantro and pickled onions, but what I really enjoyed in this sandwich was the chipotle sauce – it had a nice kick that really elevated the sandwich.
I enjoyed the inside of the sandwich very much, but the roll was a little too hard and crusty for my taste.  You need a certain amount of firmness in a roll to handle grilled pork without it falling apart, but I would have preferred a softer roll.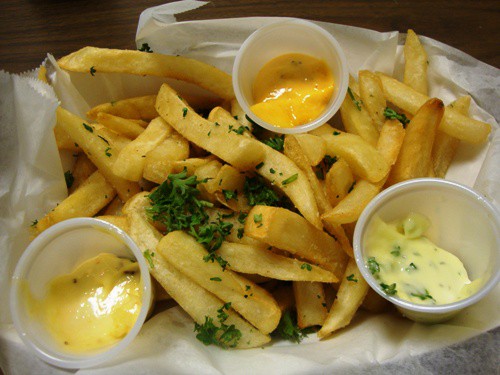 The fries were sprinkled with herbs and salt, and came with 3 different types of aioli sauces for dipping – garlic, chili and lemon herb.  They were all pretty good, but my favorite was the lemon herb.
The chili aioli wasn't spicy, but had a nice flavor.  The garlic aioli was good too, but I didn't want to eat too much garlic, needing to meet a bunch of new people for the first time.  The lemon herb aioli had a vibrancy to it, with the mix of lemon and herbs.  Lately, the fries I've had were undercooked or too limp, but these fries had some body – crispy but not overdone.  I'm glad Michael at the truck suggested the fries.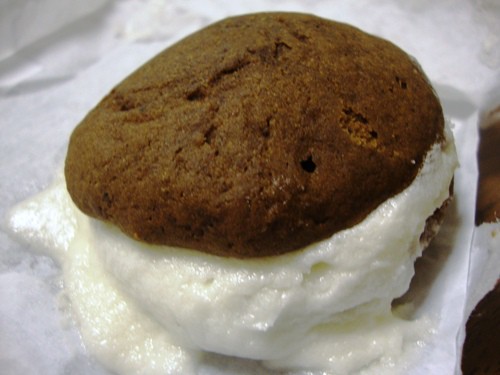 I don't usually get dessert with lunch, but they sell desserts made by Cake Bar, and Michael gave me a Rum & Coke Whoopie Pie to try.  Cake Bar specializes in alcohol infused desserts like Mudslides, Mojitos, Margaritas, White Russians, etc.
The Rum & Coke Whoopie Pie was a round dessert sandwich with two chocolate and Coke cakes that had a rum cream filling.  The cake part tasted mostly like chocolate, but the cream filling had a definite rum taste.  Yum!  After a few of these, you might go "whoopie".   The filling was quite sweet, but the rum balanced out the sweetness somewhat.
My first lunch in L.A. was a nice surprise.  I expected to get a sandwich from somewhere basic, and then explore the food truck scene for dinner – but the Clean Street Food truck and Cake Bar provided an excellent L.A. street food lunch for my first day here.
I wonder who's going to be parked in this spot today.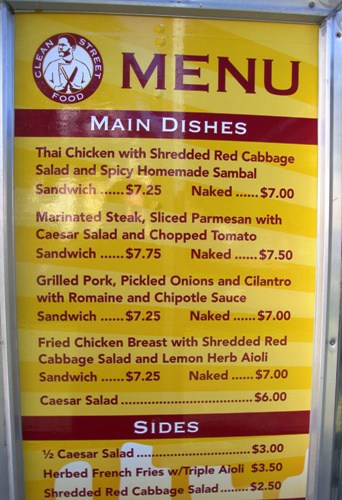 Irish Car Bomb*