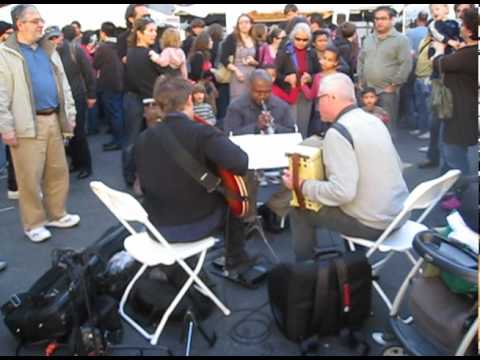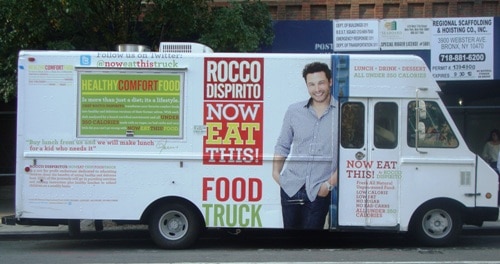 As we told you last week, Rocco DiSpirito has a new food truck on the street called Now Eat This!  It's also the name of his new cookbook, with recipes for 150 of America's favorite comfort foods, with all dishes under 350 calories.
But before you click away thinking this is just another celebrity cookbook,  there's a great twist to this story – 100% of the proceeds from food truck sales go to teaching and feeding New York City schoolchildren on Free Lunch Fridays.
Last week, Rocco and the Now Eat This! truck taught the kids at the Riverdale Kingsbridge Academy in the Bronx about healthy eating – and served them a healthy, tasty lunch of under 350 calories.  This Friday, they will be going to another school.
At the truck yesterday, they had chicken noodle soup, Mama's meatballs & pasta, cheesy turkey enchiladas and brownie cupcakes.  You can see the full menu here, including nutritional information and prices.
I went for Mama's meatballs and pasta ($5) and a cupcake brownie ($2).  Did I mention much of the menu is fat free, gluten free and/or sugar free?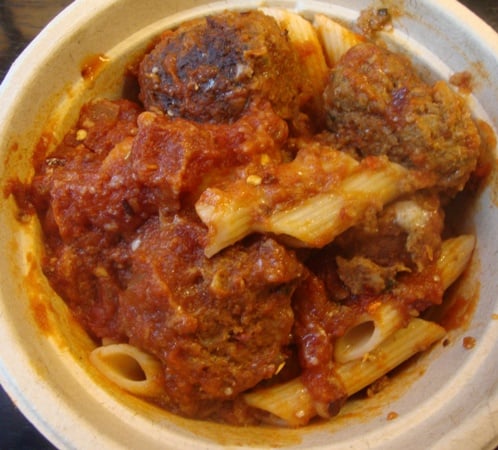 When I stepped up to the truck, Rocco was taking the orders and bagging the lunches.  This was no vanity operation.  I asked Rocco about the truck, and he told me about Free Lunch Fridays and the mission of Now Eat This!  I could tell from the conversation he truly enjoys teaching children about healthy cooking and eating.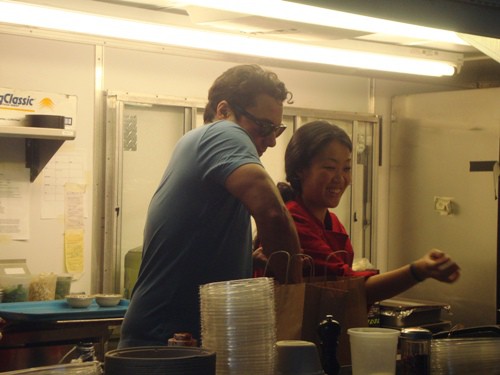 You can't tell from the picture above, but the meatballs and pasta were served in a pretty deep bowl, and there were 4 large, browned meatballs included.
The tomato sauce had a little spiciness going on, which was from some hot red pepper flakes in the sauce, and there was a bunch of tomato and a few onions. The menu said it was a fat free marinara sauce, and it was tasty.
The pasta was penne, and it was made from kamut, which is a wheat grain.  This was a tasty, filling lunch, and it was only $5.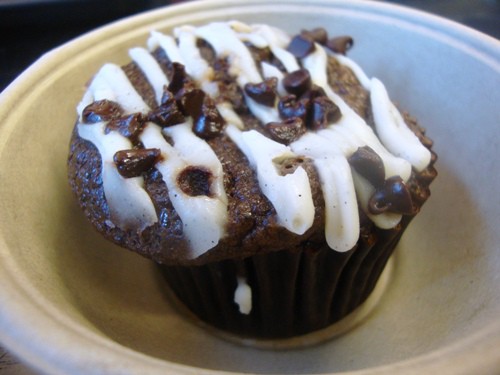 I don't usually get dessert with lunch, but I wanted to try the brownie cupcakes.  They were sugar free and gluten free, and only 77 calories.
I've had sugar free chocolate cookies and candy before, and this was much better than what I've had in the past.  It's not quite as intense as regular chocolate, but for a sugar free, gluten free dessert, this was much better than expected.  The brownie was moist, and there were chocolate chips and icing on top.  My mother-in-law, who is diabetic and a tough food critic, would have liked it.
As NYSF readers know, the healthiness of street food is not something I write too much about, but when the food is good, and helps children learn about healthy eating and cooking, I heartily recommend it.