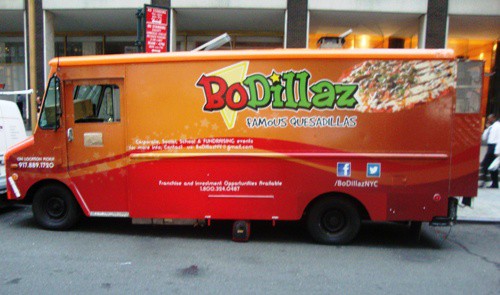 Before going out of town, we ran across a new food truck called Bo Dillaz. We couldn't figure out what they served from the name, but then we saw the menu and it made sense – quesadillas.
In addition to quesadillas, they serve wraps, salads and even chicken wings.
We spent a minute looking over the menu, and decided to try the Happy Hawaiian. The name sounds like a Honolulu tourist trap, but being in the middle of NYC, we were pretty confident that was not the case.
All the quesadillas cost $7, and the salads and wraps are either $6 or $7.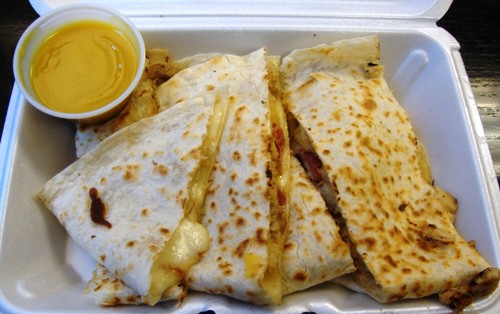 We couldn't quite put our finger on it, but something about this truck's design gave it a prefab feel. Kind of like a fast food chain, but not exactly.
Doing a little research, we found out the original Bo Dillaz is in Virginia, and they have sold a few franchises. That accounts for the feel of the truck. But the most important thing is the service and how the food tastes.
The quesadillas were made up fresh while we waited, in a large 12″ tortilla. There was grilled chicken, cheese, pineapple and bacon put onto the tortilla, it was covered, then grilled a little more.
When lunch was ready, he cut it into 6 large pieces and put them into a container. You get a choice of sauces, and we selected honey mustard for the Happy Hawaiian.
We must say, this was a pretty good quesadillas. There was plenty of pineapple, although the bacon was more like Canadian bacon, which is closer to ham. It was still tasty.
The chicken was a little on the dry side, but the pineapple and cheese helped rectify that situation.
Honey mustard was the right flavor for this sandwich, although the honey mustard sauce did have a premade, institutional feel to it. This was not what we get at home when simply mixing honey and mustard.
That said, we still enjoyed lunch, and it was quite filling too. The quesadillas had a lot of ingredients in the middle, easily keeping us satisfied until dinner.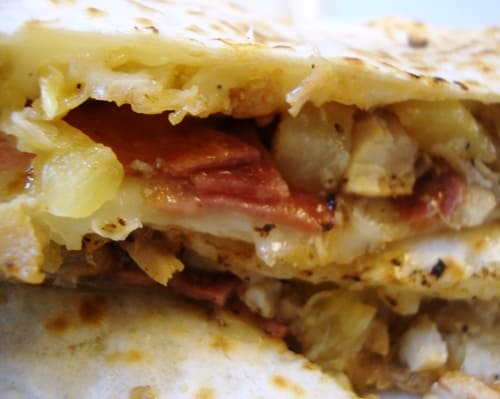 Bo Dillaz can be found on twitter here or on our Mobile Munchies twitter feed.
There are many options on the Bo Dillaz menu including quesadillas, salads & wraps and even wings. We do plan on trying a number of other dishes from the truck. Any suggestions?