Looks like Baked Potato King has some serious competition!
We've just got back into town towards the end of last week, and in our stroll around Rockefeller Center, we spotted a new food cart on 50th St between 6th & 7th Ave.
That street has become quite a hotbed of street food, with 4-5 carts and 2-3 trucks there daily.
The newest one is Baked Potato House, and when we stopped for lunch on Friday, it was only their 3rd day out.
The concept is a large baked potato with your choice of 2 salads and a sauce for $7. What they don't say on the menu is that a bunch of other stuff is included for free! Don't know why that isn't on the menu. Everybody likes free.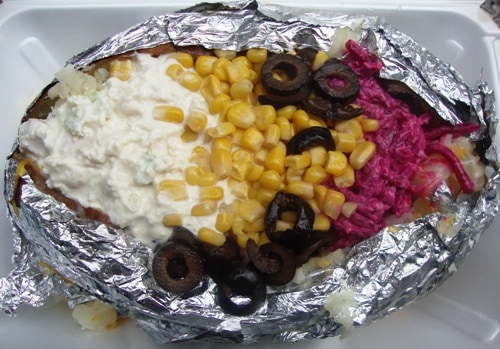 The salads range from tuna, chicken and salmon salad to eggplant, zucchini, mushrooms and even seaweed.
The sauces are an assortment of salad dressings and condiments with ketchup, mustard and bbq sauce, as well as blue cheese, Italian and ranch dressing.
We went for chicken salad and beets, but before they got to that, there was a lot of prep work involved.
This involved taking out a BIG baked potato, removing a little of the inside to make room, cutting up the potato into small pieces, adding butter and 2 kinds of shredded cheese, then adding the salads.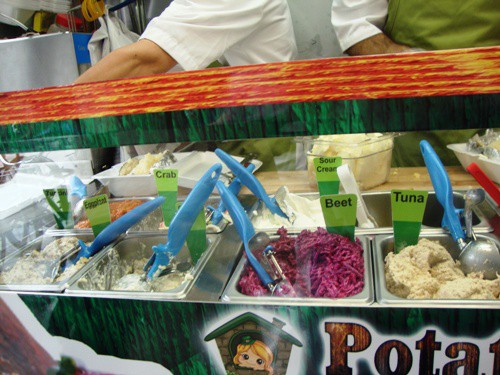 After putting the salads on top, we were surprised when they asked if we wanted corn and olives. Unfortunately, the corn and olives question threw us off our game, and we forgot to ask for a sauce. We were thinking of blue cheese dressing, but totally blew it. Oh well, there's always next time.
When we say a big potato, it was 8″ wide and plenty thick.
Digging in, the salads were obviously not homemade. They refilled the salmon salad from a large tub of Acme Smoked Fish while we were on line, which is a good brand.
The chicken salad had plenty of chicken, and the beets went especially well with the baked potato.
We would have enjoyed blue cheese dressing as we got to the bottom, but it was our own fault. At home when we make baked potatoes, we usually put blue cheese dressing on it instead of sour cream.
The Baked Potato House cart lists twitter and facebook accounts under the name potatohouseNYC, but neither are live yet. Same thing with a parked website. With only 3 days on the street, we're sure they are busy as hell, and with parking on 50th St between 6th & 7th Ave, they are already getting a ton of foot traffic.