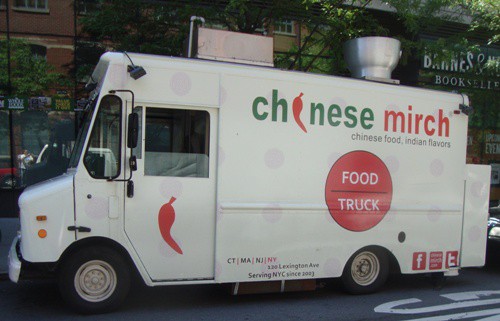 Chinese Mirch is one of the newer food trucks in the city, debuting at the Choice Streets festival just last month.  A couple of weeks ago, we tried their duck sliders, and now we wanted to try their dumplings, the Tibetan Momo.
You can get either chicken or vegetable momos, which are 5 for $4.  We asked if we could get a combination and they said "no problem", giving us 3 chicken and two veggie Tibetan Momos.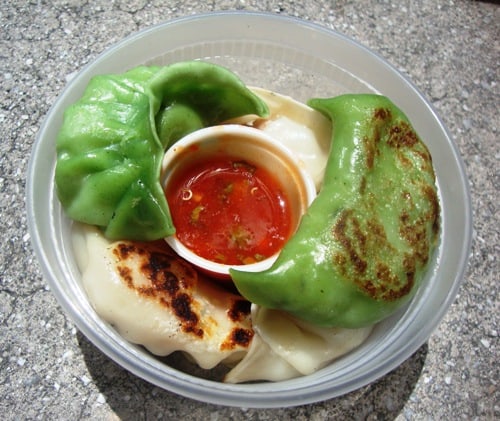 The Tibetan Momo is hand-rolled, pan-fried, and comes with either a hot dipping sauce, sweet dipping sauce or in a Szechuan broth.  We opted for the hot dipping sauce, although in retrospect, we should have asked for the sweet sauce too.
First we tried the veggie Tibetan Momo, but didn't get a good photo of the inside.  It was basically a good veggie dumpling, although we don't see what makes it different from a Chinese veggie dumpling.  It was a decent size, and pan-frying on one side added some texture.
Then we dipped it into the chili sauce.  Man, this was hot!  You can't tell from looking at it, but take my word for it, the hot sauce packed some heat.  It picked up the veggie momos right away.
We're not usually a fan of chicken dumplings, with ground chicken not being one of our favorite things.  We prefer pork and shrimp dumplings.  That said, these chicken momos were pretty good.
The chicken wasn't ground, it was more like minced, with small pieces of chicken in each bite.  More importantly, the chicken filling wasn't bland, with some scallions and herbs mixed into the meat.  Once again, the chili sauce added something extra to the momos.
We've had Tibetan momos twice before, once in a restaurant in NYC and once in Amsterdam.  They were definitely dumplings, but were much larger and round, with only 2-3 making up a meal because of the larger size.  We're not quite sure what makes these different from Chinese dumplings, but they were tasty.
You can find the Chinese Mirch truck on twitter here or on our Mobile Munchies twitter feed.
There are a few other items on the menu we want to try, such as Thukpa, described as a hearty momos and noodle stew. They have rice bowls as well.