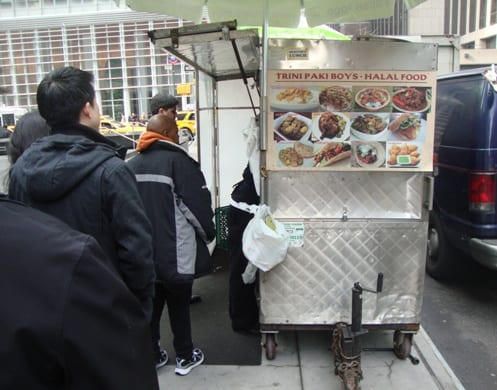 Ever had Curried Goat? Well, earlier this month, we were by West 43rd St & 6th Ave a couple of times, and both times, the venerable Trini-Paki Boys Cart was not at it's usual spot. Since there was a new Thai cart, we thought (after 2 separate visits) that Trini-Paki Boys was no longer around.
NYSF reader Brendan saw our article and contacted us to say he recently saw Trini-Paki Boys back on 43rd St, so we stopped by yesterday for lunch.
There's always a line at this cart, for good reason. Yesterday it was only about 8 people, but during the summer, it can be much longer.
We make a point to ask about daily specials, and one was curried goat. This is a Caribbean specialty that we haven't had much, so we ordered a medium size for $7. They have larger and smaller sizes, but the medium is enough for us, and we have a big appetite.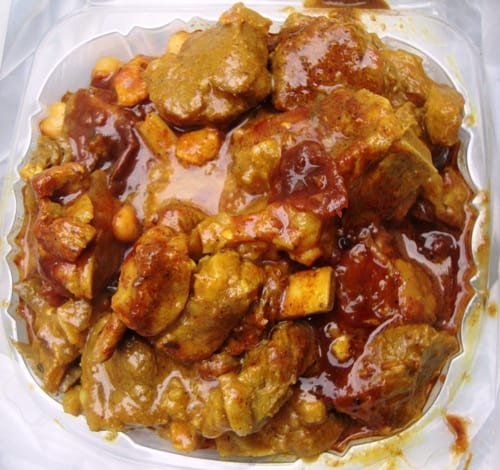 He loaded up the container with rice, chickpeas, some veggies, and a heaping portion of curried goat. It barely fit in the container.
They have some tasty sauces at Trini-Paki Boys, the tastiest of which is their tamarind sauce. You don't see that at any other cart in the area, so we asked for hot sauce and tamarind sauce. Keep in mind the main course had a nice amount of curry sauce already.
Opening the lid, you would expect the strongest smell to be curry…but it wasn't. The tamarind sauce was even more fragrant than the curry sauce. Together they got our olfactory senses hopping (and our mouth drooling).
If you haven't had goat before, it can be tough, but they stew it here for a long time, which helps tenderize the meat, making it not too different from the meat in beef stew.
The only problem is there are more bones and fat than beef. You have to be somewhat careful to watch out for the bones and fat when eating this dish.
Taste-wise, it was delicious. The dark brown curry sauce and tangy tamarind sauce were a great combo, made even more potent by a generous dose of hot sauce.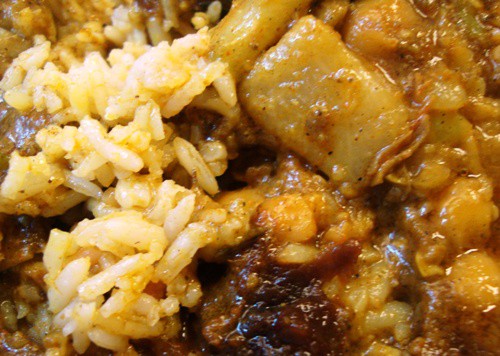 Beneath the meat was a cornucopia of chickpeas, cabbage, peppers, potatoes, onions and rice, all of it soaked with the aforementioned sauces. Yum!
The rice was nicely spiced too, with cinnamon, cloves, apllspice and probably a few others as well.
We're glad that Trini-Paki Boys is still serving on West 43rd St, just east of 6th Ave. They've been there a long time, and hopefully will be there even longer.
If you haven't had the pleasure, their chicken over rice with tamarind and hot sauces is one of the better versions around. Their jerk chicken is pretty darn good too, as are their Trinidadian doubles.