Searching for a shortlist of the best Coffee shops in NYC? In this post, we'll discuss a few of our top favorites. 
The NYC coffee scene is vibrant and growing continuously, with exotic roasts from Africa, the Far East, South and Central America, and more. You can find organic coffee shops, CBD-infused coffee shops, and successful brands from Colombia and Australia, all serving delicious high-quality coffee that will make your day a bit more joyful.
So without further ado, here are some of our top favorite specialty coffee shops in New York City:
1. Cafe Grumpy
First of all, I love the name! Isn't it brilliant? Founded back in 2005, the turning point for Cafe Grumpy was only in 2009, when they began roasting their own coffee in-house. You'll notice their commitment to quality with every sip you take, no matter which coffee you choose. Today, they already have 11 locations all across NYC, and high-quality coffee is maintained throughout all of them.
I love their Grumpy Egg Nog, which is a cold brew with egg nog. Delicious! But they have more than great coffee. Try their baked goods, especially their Almond croissant, the Jelly-filled, and Rasberry donuts. 
Follow Cafe Grumpy for more details.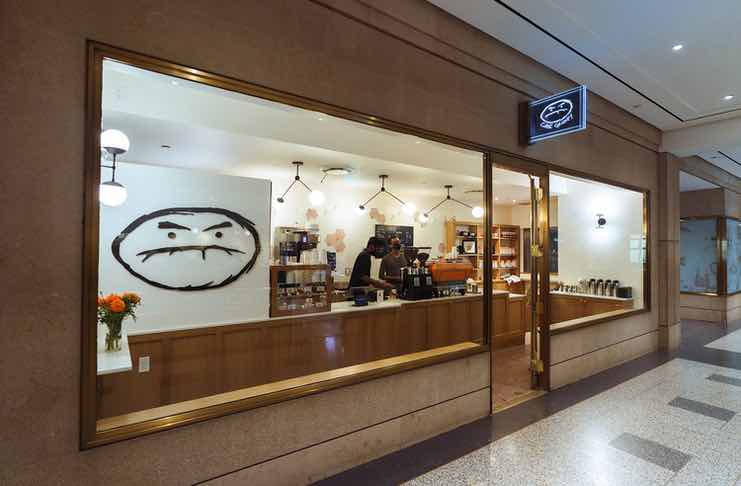 2. Ten Thousand Coffee
This unique global coffee brand was born in Sydney, Australia. It's quite new in NYC,  but with their fun and untraditional drinks, they've already become one of the most popular coffee places in the city.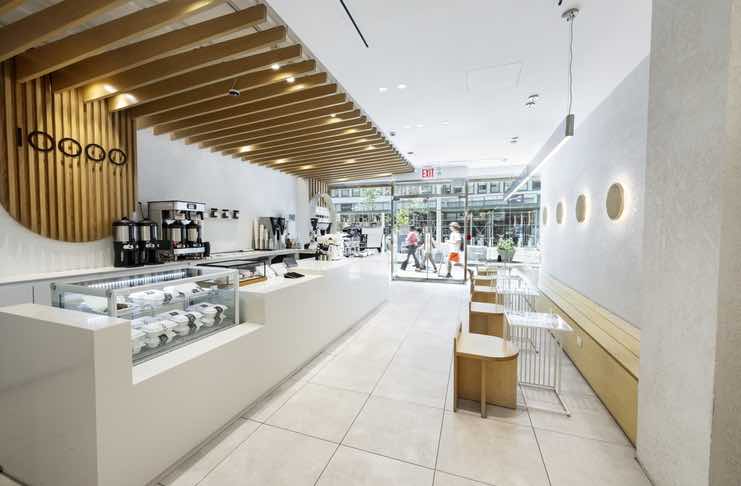 First, what's behind the great name? Well, it's derived from the famous 10,000-hour rule, which claims that if you practice anything for 10,000 hours – you'll become an expert in it. The founder of this place invested over 10,000 hours in mastering his coffee aroma, and the first sip I took from their ESPRESSO CREAM LATTE, definitely proved the rule works. This magical signature drink was thick and creamy, filled with rich coffee, making it super fun to drink. I also recommend their steaming PANELA LATTE. 
If you're like me, and can't have coffee without something sweet to eat, Ten Thousand Coffee has lots of yummy options on its menu. I love their Chocolate Ganache Croissant, and their Pistachio Cream Croissant is a MUST as well. Both are fluffy and rich in flavors. No wonder Ten Thousand Coffee already has 3 locations in Manhattan.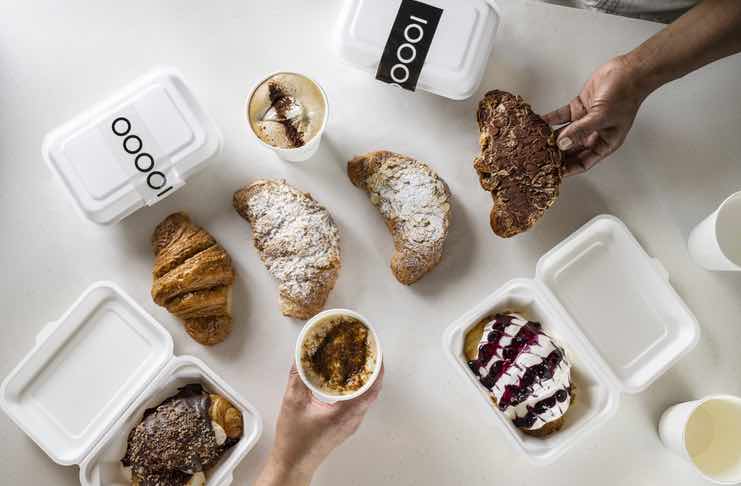 For more about this lovely coffee shop and its locations – follow them on Instagram. 
3. Felix Roasting
Some may say it's a bit flamboyant, that it looks like a movie set, but I love it and enjoy it every time I visit Felix Roasting. It definitely has a unique Victorian old-world ambiance, with its European-style decor, high ceilings, and vintage portraits.
As for the coffee, it's as good as the ambiance. I love their thick and creamy Hickory Smoked S'mores Latte, which is much more than just a cup of coffee. It's practically a whole dessert with a small show, as the server smokes the latte and s'more just in front of you! 
As for the baked goodies, I recommend their Cardamon Bun and Almond Croissant. The bun is deliciously soft, light and filled with cinnamon. The Almond Croissant is a super generous portion that can be shared by two (at least). All pastries are gone pretty fast at Felix Roasting, so arrive early!
Watch this to get a glimpse into Felix Roasting:
4. Cafe Integral
This lovely and nicely decorated coffee shop near Chinatown serves mostly Nicaraguan roasts and espresso (thanks to the owners' heritage of course), along with some other coffee blends. My first sip was the Horchata Latte. It had an awesome texture, with a lightly sweet and nutty flavor. If you feel for some pastries – they also have some great croissants and a really good Kouign-Amann. 
What I love about this place, is that these guys make their own housemade nut milks, especially their delicious almond milk which is sweetened with dates. Also, all beverages are served in special clay coffee cups, which fit the overall look of the place and make the whole experience more enjoyable.
Watch this to get a glimpse:
Follow them on Instagram.
5. Drip Coffee Makers
This tiny coffee shop is a real gem, hidden on a small side street in Bushwick, not far from the Myrtie Broadway station. It offers delicious artisanal coffee with a great menu. The staff is extremely friendly, the shop is always perfectly clean, and the coffee is consistently GOOD.
I had the Dulce Latte which was lovely, but my favorite was the Cold Brew with Oat Milk and some Vanilla, so delightful and refreshing. What I love about Drip Coffee Makers, is that they won't charge you more for non-dairy milk, which is quite rare these days.
View this post on Instagram
 6. Black Fox Coffee Co. 
This European-style coffee shop has two locations in the Financial District and two more in Midtown. The design of the place offers comfort and a homey warmth that makes you stick around. 
Black Fox Coffee Co. offers a nice array of breakfast options, on top of their pastries. I had the Eggs on Toast with Avocado nad Bacon, which was delightful. My friend had the Southwest Fried Chicken sandwich, and he enjoyed it very much.
For the coffee, I had their hot Butterscotch Latte with Oat Milk, and I loved it. It paired perfectly with their Mini Matcha Bundt Cake. My friend had the regular Latte with Pumpkin bread. He claimed it was one of the best pumpkin bread he ever had, with crunchy topping and distinctive spices. 
View this post on Instagram
 7. Coffee Project New York 
I love this unique coffee shop for a few reasons, and one is because how the two founders are also working hard to educate the public and generate awareness about the importance of sustainability in the coffee industry. They have workshops and even classes that provide a Professional Certification, designed for coffee lovers searching for a career in the industry.
The 2nd, and probably the most important reason why everyone loves this place, is the Deconstructed Latte, which is much more than a coffee. It's an EXPERIENCE. Everyone, and I mean, EVERYONE, comes here for this. What is it? It's a brilliant concept with a great amount of coffee (approximately 1.5 lattes). It begins with a shot of espresso, a shot of creamy milk, and then the latte with a tiny bite of waffle. After that comes a little bit of sparkling water to cleanse you up. The process goes by slowly sipping a tiny amount of the espresso, much like you sip wine.
View this post on Instagram
 Follow them on Instagram for more info and pictures.
Conclusion
As I said, these are just 7 of our top favorite coffee shops in NYC. There are many more awesome joints that we'll cover in the future. It doesn't matter if you're searching for a a unique espresso, latte, a local roaster or an exotic speciality-blend, you can find it all in the Big Apple.
Charles Vallena is the founder and managing editor of Cuppabean.com, a coffee blog that helps people make better coffee by providing expert insights, recipes, and in-depth reviews on coffee makers. Follow Cuppabean on Facebook here.