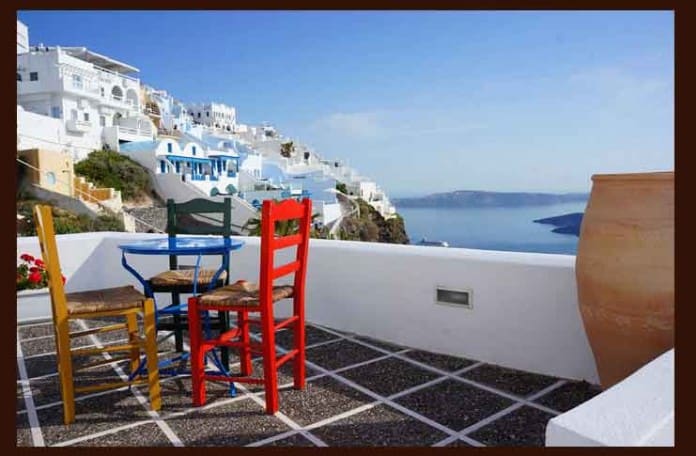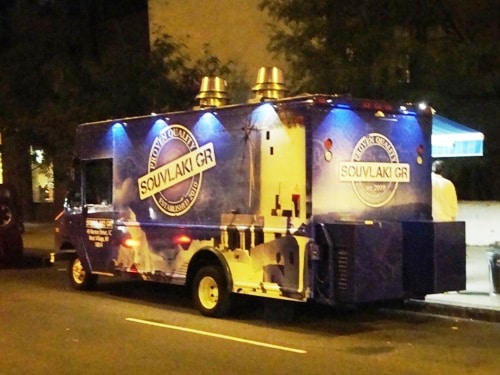 NYSF Update – I heard from Souvlaki Gr today (Sat) and they will not be in midtown on Monday.  With the demands of serving lunch in midtown and the upcoming Labor Day holiday, they decided that another week downtown would help smooth out any rough edges.  They expect to be serving lunch in midtown after Labor Day.  They also sent me an updated menu, which can be viewed here.
I've been following the new Souvlaki Gr(eece) truck on Twitter since they tweeted on Aug 4th – "Souvlaki truck passed it's inspection today…so proud, we are.  Gettin' ready, folks! Guess i better crack open my "twitter for dummies"!
And I couldn't wait to try their food – authentic Greek souvlaki, priced well.  Check out the full menu on their website.
They had a soft launch this week on Houston St in the Village which is a smart move – not starting out in the crazy environs of midtown.  Mexicue started in midtown before all the kinks were worked out, and the lines and waits were ridiculously long.  Starting out evenings in the Village should give Souvlaki Gr a little room to get everything running smoothly, and they told us they will be serving lunch in midtown starting Monday (Aug 30th).  How was the food you ask?  Find out after the jump.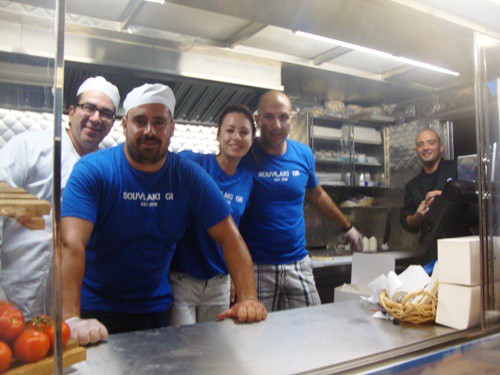 First a little bit about the environment.  According to their website, Souvlaki Gr was started to bring a little bit of Greece – and the most popular Greek street food, souvlaki – to the streets of NYC.  They have largely succeeded.  When you walk up to the truck, there's Greek music playing, some books about Greece are lying around, and a big picture of Greek cliffs and buildings are on the side of the truck.  As you can tell from the names in the picture, these are real Greeks cooking real Greek street food!
There were 5  people working in the truck, which should hopefully keep wait times down during the crush lunch hours in midtown.  I waited about 10 minutes for my food, but it was a large order that I was bringing home for a few people for dinner.  I ordered a chicken pita, pork pita, beefteki, regular fries and Greek fries.  Everything was wrapped up, boxed and bagged nicely, with the food surviving the windy walk home from Houston St.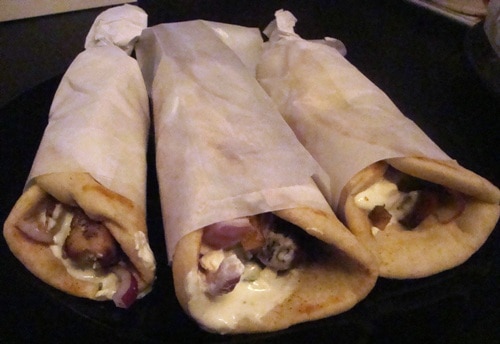 The chicken and pork pitas are skewers of meat grilled over charcoal (yum!) with red onion, tomato, a couple of fries and a real yogurt tzaziki sauce on a warm pita – and they were only $2.50 each.  The meat was lightly spiced and had the distinct flavor of being charcoal-grilled.  The red onion added some bite, and the tzaziki sauce was outstanding, bringing everything together.
The pita bread was soft and warm, but it was a little weird getting fries on the sandwich.  Bistro Truck does the same thing on their merguez sausage sandwich, so I guess it's a Mediterranean thing.  My family liked the chicken pita better, but the pork was good too.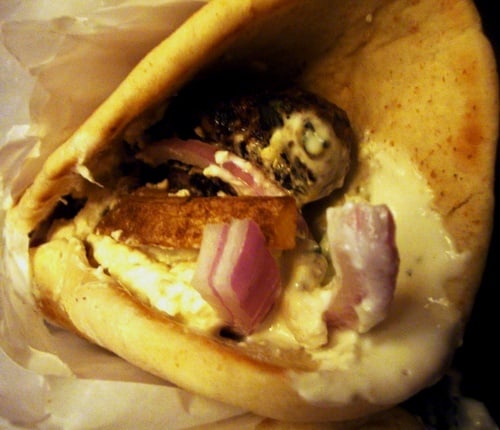 The beefteki was probably my favorite, although the picture above doesn't do it justice.  Beefteki is a ground beef patty with Mediterranean spices similar to kofta, but this was so much better.  Kofta is often hard and dry – this was soft and delicious.  It was also served on a pita with the same toppings as the chicken and pork pitas, but they also included feta cheese in the sandwich, which played nicely off the heavier spices of the beef.  The beefteki was a little more, $4, but worth it.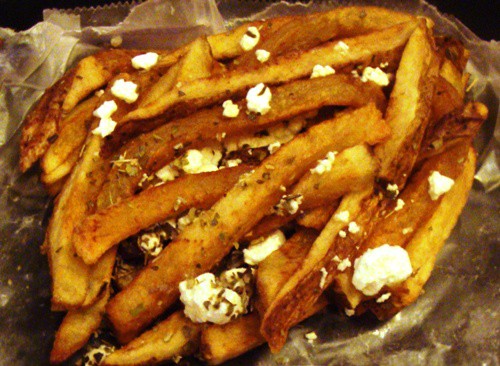 The Greek fries were regular fries with crumbled feta cheese, thyme and oregano.  They aren't listed on the website's menu, but there was a sign in the truck window, which I'm glad I read.  The Greek fries were $3 versus $2 for regular fries, and both were good.  It's more a question of what you're in the mood for than which is better.  The Greek fries obviously had more flavors going on, but the regular fries were certainly respectable.  Both fries were a little limp, but that was from the condensation in the bag that accumulated during my 6 block walk home.  Knew I should have eaten the fries right then and there 🙂
My wife joked that I should have two categories on New York Street Food – one with street food she will eat – and one for all the rest.  She likes the kathi rolls from Biryani Cart and several things from Num Pang among others.   Souvlaki Gr passed the wife test with flying colors, her favorites being the chicken pita and Greek fries.
My prediction is that Souvlaki Gr will have a long and popular life on the streets of New York.  The food is fresh and very good, and it's priced right.  As long as they adequately cope with the demands of midtown lunchers, they should be around for quite a while.