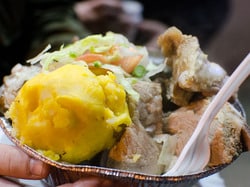 If you want to check out "real" street food from different parts of Latin America, you should read this article.
We've heard about the late night street food tour of Roosevelt Ave in Queens when the Vendy Awards people tweeted about it.  It's run by Jeff Orlick, a local resident, who recently took someone from Serious Eats on the tour, who wrote about it.
Click here for the article, which has mouth-watering pictures, as well as info on the tour itself.