There's a relatively new Thai street food cart on West 50th St just west of 6th Ave called Tuk Tuk Boy.  A tuk tuk is a 3 wheeled vehicle popular in Southeast Asia.  The cart first appeared late last year and didn't have much of a crowd, but judging from my visit last week, they seem to be catching on.
Tuk Tuk Boy has a Thai menu including pad thai, chicken basil, Thai bbq and red & green curries. You can see their regular menu with prices here, but I often advise checking out the Daily Specials for several reasons.
With a Daily Special, you usually get something fresh with main ingredients that haven't been in a refrigerator for a few days.  It's also a way for vendors to show off a special dish of theirs.
The Daily Special during my visit was massaman curry, which I've enjoyed at Thai restaurants.  This one cost $8 and while I was waiting for it to be cooked, it became apparent this was a good decision.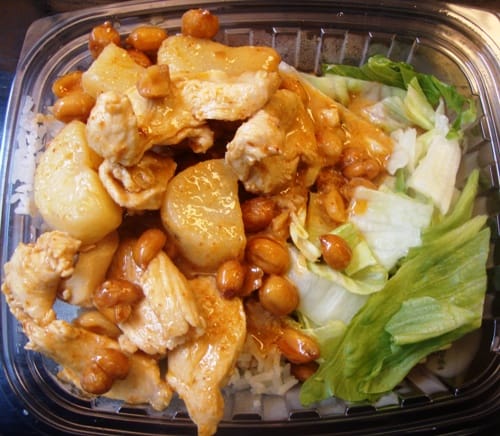 While I waited 5-10 minutes for my food to be cooked, at least 3 or 4 people who came up behind me ordered pad thai and were handed their lunch right away.  I don't know how far in advance the pad thai is prepared, but the massaman curry was being prepared as I waited.  Always a good sign.
My lunch came with a container of white rice and lettuce on the side, as well as a container of the massaman curry.  The photo above is only about 2/3 of the massaman container over rice, so the portion was very nice.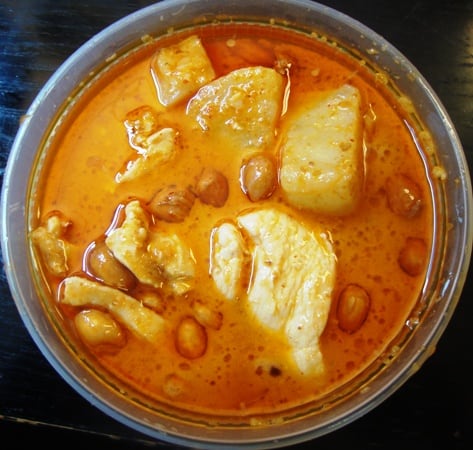 If you haven't had massaman curry before, it's a hearty "stew"-type dish with chunks of potatoes and often chicken, but could be made with another protein such as beef or tofu.  This one also had peanuts, and the curry sauce had a creamy peanut taste too.  It's not particularly spicy, so if you want some heat, make sure to ask for a small container of hot sauce before you leave the cart.
I had been to Tuk Tuk Boy once before and got the shrimp pad thai, which was good – but the massaman curry was excellent!  Lots of sliced white meat chicken, potatoes and peanuts in a delicious peanut curry sauce.
This lunch was a textbook illustration of why I often get the Daily Special, both at street vendors and at restaurants.
Tuk Tuk Boy doesn't tweet or have a website, and I believe they are the only Thai street vendor in midtown.
Now I see why there were a lot more people there today than on my first visit early this year – although it was also 20 degrees warmer today than on my last visit.