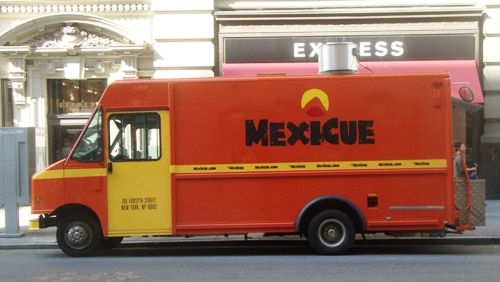 Want to Hire a Food Truck? Right now many of the NYC food trucks are helping people in need, but just around the corner is the holiday season. Yes, only about 8 weeks until Christmas, with company holiday parties even sooner.
We have already been contacted by companies looking to hire food trucks for their holiday parties. Even if you don't want people to have to go outside for a food truck at a holiday party, most of the top food trucks have catering services, and they would love to cater your holiday party or other event.
In fact, we went to a wedding over the summer, and it was catered by Mexicue. There was no food truck, and we weren't even aware it was catered by Mexicue until dinner time. That was a nice surprise!
We were also contacted by one of the largest gaming companies in the world, who will be unveiling a new gaming console in a couple of weeks. We were able to provide them with one of our favorite food trucks for their big event.
An internet company you all know that does location-based recommendations and services contacted us about getting a truck they could wrap for a week-long promotion in December. When you see it next month, that was one of our deals.
Whatever your event is, a food truck can make it more fun. If you would like us to help you find a food truck for your company's holiday party or another event, please email NewYorkStreetFood@gmail.com. Just make sure you have at least 100 people to feed, and the budget to make this work.