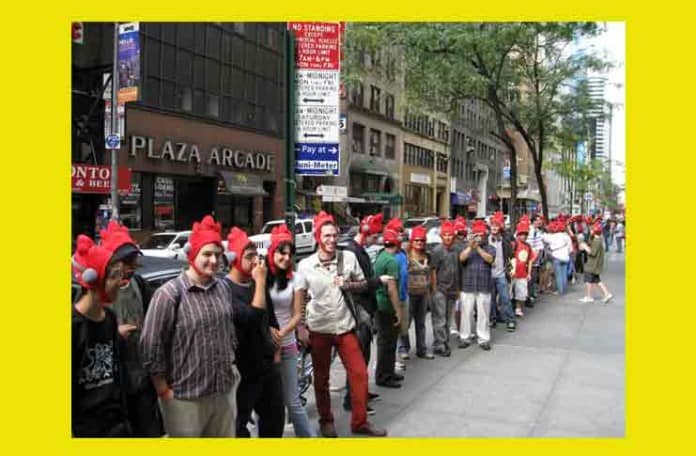 We ran across a video of Ching He Huang cooking sweet & sour prawns  as part of the Chinese Food Made Easy/Street Food series.
Ching previously had TV shows on the UK Food Channel such as Ching's Kitchen and Great Food Live, and currently has several books and various other Chinese food-based businesses happening.
Click through for the video and the written recipe instructions.
Ingredients
3 tbsp peanut oil
8 large king prawns, de-veined, shelled (leaving tails on), heads removed
1 tbsp grated fresh root ginger
1 red chilli, de-seeded and finely chopped
½ onion, chopped
2 oz canned pineapple, drained and chopped
7 oz pineapple juice
1 small handful chopped red and yellow pepper
1 small handful fresh beansprouts
salt and freshly ground black pepper
½ lime, juice only
honey, to taste
1 spring onion, finely sliced steamed
jasmine rice, to serve
Instructions
1. Heat a wok until smoking, then add two tablespoons of the peanut oil. Add the prawns and stir-fry for 3-4 minutes, or until the prawns are pink and just cooked through. Remove from the wok and set aside.
2. Heat the remaining oil in the wok. Add the ginger and chilli and stir-fry for 30 seconds. Add the onions and stir-fry for 2-3 minutes, or until softened.
3. Meanwhile, place the pineapple and the pineapple juice into a food processor and blend to a smooth purée. Pour the purée into the wok and simmer for 1-2 minutes. Add the chopped peppers and beansprouts and stir well. Season, to taste, with salt and freshly ground black pepper, lime juice and honey.
4. Return the prawns to the wok and stir through the sauce. Sprinkle over the spring onions.
5. To serve, place equal amounts of the stir fry onto two plates and serve with steamed jasmine rice.