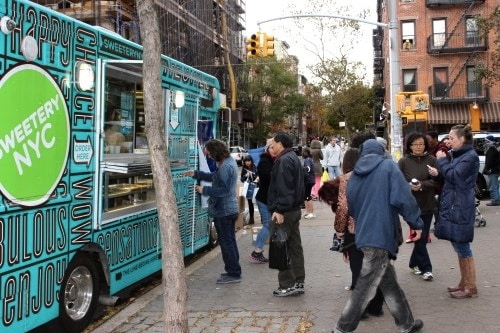 At this point, we've all heard about the Mayor's Fund To Advance NYC hiting over 20 food trucks through the  NYC Food Truck Association to help with Sandy Relief.
A few companies are also sponsoring food trucks through the NYCFTA including Chase News, Glamour Magazine, Morgan Stanley and Havas. We have to give a shout out to Jet Blue too, who funded over 20,000 meals the first few days after the storm.
What you might not have heard about are the other food trucks serving those in need, who are finding their own ways to get the job done. And when we say job, we mean helping our fellow New Yorkers who got nailed by Hurricane Sandy.
Earlier this week, we told you about The Cinnamon Snail raising money through a Paypal account to help those who need it most. Today they will be serving hot meals, soup, coffee, fresh donuts and offering a charging station in Rockaway Beach. The address is 192 Beach 96 St, Rockaway Beach NY (across from Rockaway Taco). They will be serving lunch and early dinner from about noon to 6pm. You can still donate via Paypal to thecinnamonsnail@gmail.com
La Bella Torte is returning to Breezy Point, Queens today in the parking of St. Thomas More to distribute food. They are doing what they can with donations from family friends and local businesses.
Staten Island natives the Mac Truck have been in Staten Island every afternoon this week at Hunter Ave & Father Capodano Blvd. We have no idea how they are funding this, but are proud of the new guys, who had only been open about 6 weeks before Hurricane Sandy devastated their Staten Island community.
Even food trucks from Baltimore are getting into the act, collecting badly needed supplies this weekend, then delivering them to 3 NJ towns who desperately need them.
A huge THANK YOU to everyone who is helping out, from the awesome food trucks to all the people donating their time and money.