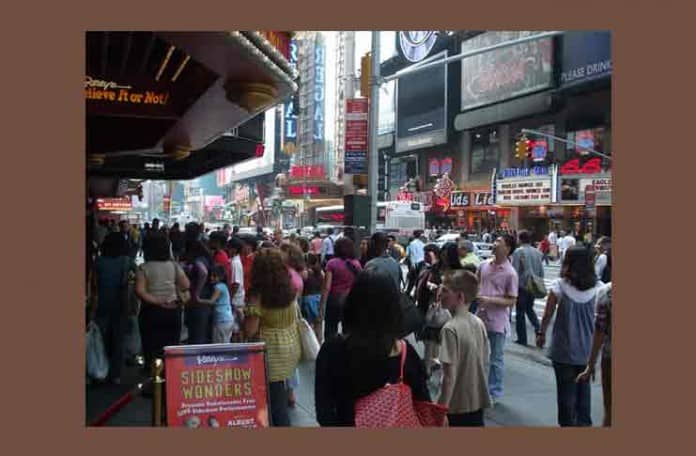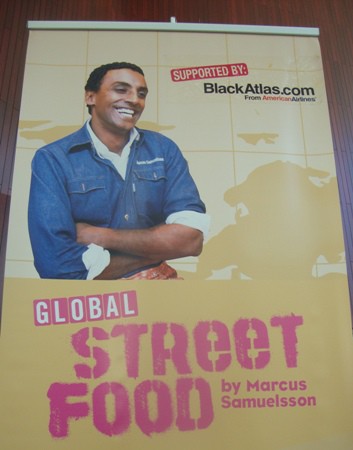 One of the top chefs in NYC, Marcus Samuelsson, has opened a pop-up Global Street Food cafe at Alice Tully Hall in Lincoln Center that only runs through Sept 15th.  I stopped by Friday for a great lunch, and if you love international street food, you can check it out for lunch or dinner over the next few days.  They are open from 10:30am to 11pm, except today when they are closed.
Marcus has been interested in world street food for a long time, and I was interviewed back in May for his street food blog.  Marcus also has a small place called Street Food Jakten in his native Sweden.
The Global Street Food menu includes chicken barbacoa tacos, beer-breaised wurst, lemon-roasted chicken, Mexican corn on the cob and more, but I wanted to get something that isn't available on the streets of NYC.
My lunch Friday was doro wat ($11), a spicy Ethiopian dish.  Ethiopia is also where Marcus' father is originally from, so he is very knowledgeable about the cuisine.  I also got a (non-alcoholic) ginger beer ($3).
You can see the Global Street Food menu here and the interesting drink menu here.  Since this is in Alice Tully Hall, there is a full bar, and they came up with a few funky drinks like the Jamaican Splash and the Nordic Cooler.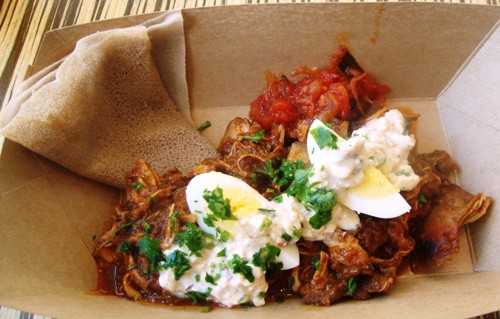 While I was eating lunch, the ginger beer provided great refreshment.  I don't know how they call this ginger beer – it was more like ginger juice – but it was great with the spicy food.  It reminded me of orange juice, but ginger flavored.
There was a nice dessert menu (I love mud pie), but that was too much food for lunch.  I also got a peek at the beer-braised wurst with sauerkraut, which looked very tasty too.
The Global Street Food pop-up cafe is in the lobby of Alice Tully Hall on Broadway at 65th St, but they are closed today, Mon, Sept 15th, and Thursday, Sept 15th is the last day.  It's a nice, airy space, and they are open until 11pm, so you can get dinner there too.  I just may one night.