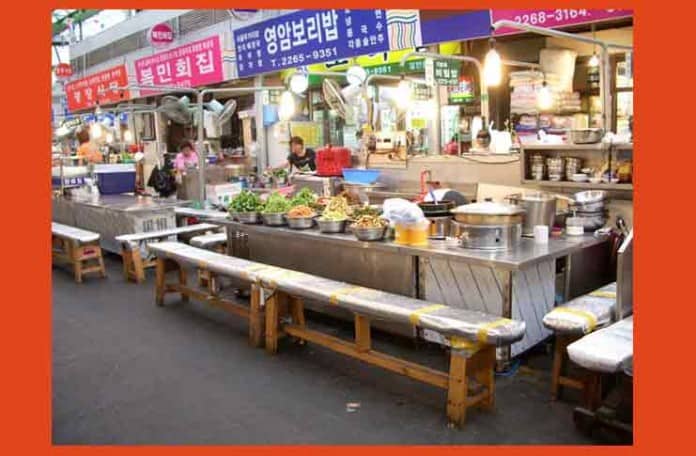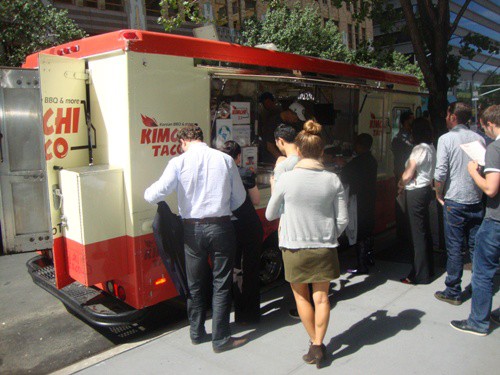 Last week I had to run an errand, and on the way back to my office, I happened to pass the Kimchi Taco Truck.  There were a few people around the truck, but it didn't look too bad, so I got on line and ordered.
It turned out to be no more than 7-10 minutes between getting on line and walking away lunch, which was a Kimchi Bowl with spicy pulled chicken ($8).
While I was waiting for my order, I filled up two containers with sauces and asked what the difference was. They said the lighter colored sauce was fermented bean paste, which was mild, and the darker red sauce was hot sauce.
When my order was ready, they put the two containers into my bag, and I headed back to the office.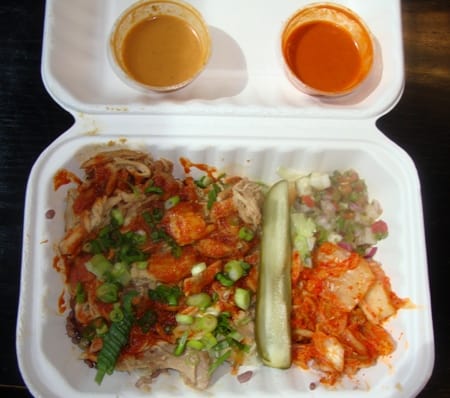 The chicken was a mixture of small pieces and shredded chicken.  I didn't find it particularly spicy like the menu said, but it was really good.
I tasted the fermented bean paste sauce, which had a fairly rich and intense flavor, and thought it would overpower the chicken.  I did put some hot sauce on the chicken though, and there were already a lot of scallions on top.
The chicken was very tasty, with the chili and hot sauce in the forefront.
The kimchi bowls come with several side dishes, and you also get a choice of multi-grain or white rice.  I chose the multi-grain, which you can't see under the chicken, but it was there, in all its purplish glory.  The rice seemed to have a slight nutty flavor to i, and was very enjoyable.  There were also some beans in the rice, which added even more protein to this pretty healthy lunch, especially for street food.
I also liked the pickle spear and the kimchi was excellent too.  The pico de gallo had tomatoes, green peppers, red onions and a white, tuber-like vegetable.  It wasn't potato, but could be taro or something like that.  The homemade red kimchi did have some heat to it.
Lunch from the Kimchi Taco Truck was very good, and I wouldn't be at all surprised if they are nominated for a Vendy Award in the Rookie of the Year category.  Their food certainly has that level of quality.
The Kimchi Taco Truck website is here, you can follow them on twitter here, – and don't forget – they will be opening the Kimchi Grill in Prospect Heights soon.