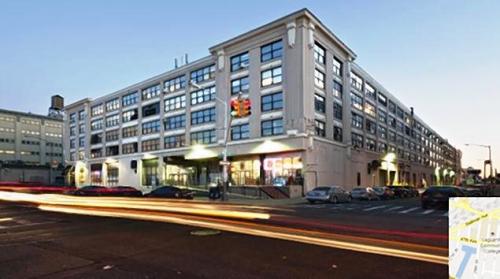 The Food Box, a 2,000-square-foot pop-up artisanal food fair, has opened at the Falchi Building in Long Island City. It's meant to not only service building tenants, but also the LIC neighborhood.
There are some pretty interesting food vendors, including the 2013 Vendy Award Winner for Best Market Vendor. Click through to read about each one.
Participating vendors to date include:
• ReCaFo | Real Caribbean Food launched in April 2013 as a purveyor of Caribbean food with a primary focus on Jamaican cuisine. ReCaFo is owned by David Wisdom, who is a recent immigrant from Montego Bay, Jamaica. His cooking emphasizes the tastes, spices and original techniques of traditional Jamaican food for which that country is renowned. The menu includes jerk chicken and pork, curried goat, oxtail, coconut rice and peas, patties, and other typical Jamaican island food.www.recafo.com
• Jessy's Pastries got its start on Etsy, a marketplace for handmade goods, vintage items, and supplies, and New York street fairs such as, Hester Street Fair and Artists & Fleas. Using techniques passed down among generations, Jessy's Pastries offers a combination of specific styles and distinctive Peruvian flavors. In addition to empanadas, the stand also serves alfajores, crumbly butter cookies in four flavors – classic, coconut, nutella and rum. www.jessyspastries.com
• Khao Man Gai NY specializes in a Thai chicken-and-rice dish – Khao Man Gai, for which it won Best Market Vendor at the 2013 Vendy Awards. Founded by a Thai native and her husband, Khao Man Gai NY emphasizes high-quality ingredients with its authentic preparation of this Thai favorite. Each dish comes with well-seasoned, tender organic chicken served over herb-studded jasmine rice, accompanied by a delicious sauce that balances the four main Thai tastes of salty, sweet, sour and spicy, garnished with cucumbers and cilantro, and paired with a clear light soup.www.facebook.com/KhaoManGaiNY
• The Kolache Co. was founded by Texan native, Seung Jeon, The Kolache Co. serves a twenty-first century take on the Czech pastry, using new flavors strawberry, raspberry and pineapple, in addition to a Texan favorite – the sausage kolache.
Food purveyors, L'Arte Del Gelato and Artisanal Cheese have also been added to the building's tenant roster.